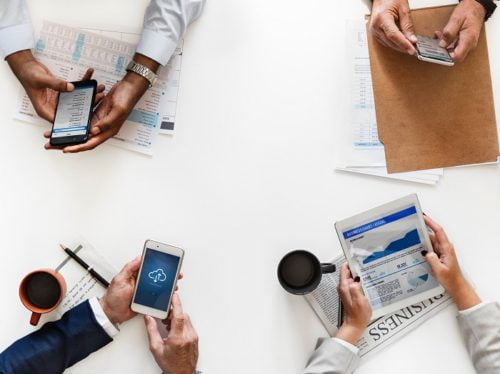 Whether a small huddle space or large conference room, enabling your team with the right collaboration tools and capabilities is essential for creating a productive space. Also critical to the space is the connectivity, providing a reliable network. But which is the better choice, wired or wireless? They each have advantages but to determine which is right for your business, we'll need to understand who will be using the space, what collaborative tools you'll be using, and what level of security your network has in place.
Let's start with three types of wireless solutions available:  
A Business Wi-Fi network is a dedicated Wi-Fi network providing exceptional, reliable coverage to anyone on the business's network. It allows seamless access to all server files to everyone on the network however, it restricts access to guests. This restricted access impacts collaboration. One benefit though is that the system can be located anywhere on premise, eliminating the need to locate it the equipment in the room.
A local network is a device-specific wireless network. It creates its own WiFi network with direct connectivity. This method offers heightened security since the company's network doesn't need to be accessed in order to connect to a device. The local network is the popular choice among IT Administrators due to the secure nature of standalone devices not needing to access the network. The downside however, is that files outside of that network cannot be accessed and that the devices need to be located in the room.
A Plug-n-Play Network uses wireless USB dongles to connect directly to a dedicated network. Once connected, the dongles automatically download a widget that allows the users to connect to the system. At the click of a button, many of these dongles include "show me" functionality which allows the user's desktop to be shown on the display. The USB dongles can be a supplement to either of the two other types of wireless systems as described earlier, providing connectivity for users who either can't connect to the WiFi network or who are unable to download or access the necessary software. One possible disadvantage is that dongles can inadvertently be packed up with guests' laptops or otherwise misplaced.
Content streaming is available on many of the wireless presentation platforms. This is great for employees who work remotely or are traveling, as well as for sharing content across a corporate network to a satellite location. Additionally, many systems can also provide the ability to present multiple desktops simultaneously, providing an enhanced collaborative experience.
Wired or wireless, but not wire-free
Providing at least one "hardwired" connection is recommended for every meeting space as wireless access is not always available for all users. Some systems require an app or software suite which can be problematic for guest presenters who don't have the ability or system rights to install software on their laptop, and others have severely locked down laptops where even the USB ports are not able to upload or download data which would include the widgets that the wireless USB dongles provide. Unforeseen network issues or outages can also render a wireless system inoperable if the system relies on the Client Wi-Fi, so the hardwired connection provides a reliable backup.
So, which is the right solution for you? Give us a call and let's explore the options. We'll discover your wants, guide you through your choices and work with your IT pro to ensure safe connectivity. And keep in mind, wireless doesn't mean wire free. There's still equipment that needs to live either in the room or in an equipment rack elsewhere and there's still a need to provide power to the tabletop connectivity. It all starts with the infrastructure. Let's get started, shall we?