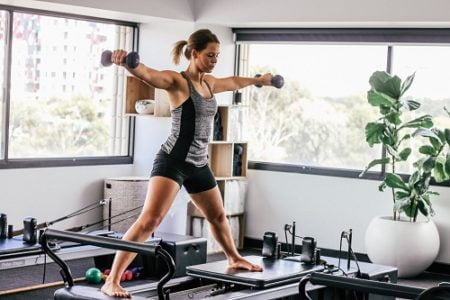 Gyms are great for your fitness goals, but they're one-size-fits-all. Why pay for a pricey membership at a crowded gym when you could have a smart home gym of your very own?
The right fit for your fitness goals
Gym hours (not to mention group classes) almost never seem to fit your schedule perfectly. If you're a working adult or a parent, you know how hard it is to squeeze in 30 minutes of exercise each day, let alone find childcare. A home gym gives you the flexibility to work out when you find the time – without worrying about childcare, busy schedules, or missing a delivery at home. And when you add in smart technology that enables you to answer the doorbell, adjust your thermostat, preheat the oven or change your workout mood with just your voice – you'll never have to worry about interrupting your workout.
 A gym designed with you in mind
Whether you want a dedicated home gym or only have room for designated space to roll out your yoga mat, there are endless audio, lighting, climate control and even voice control solutions to help you create the ultimate, immersive experience required to motivate you through your workouts. Whether you're a yogi looking for natural light and calming audio, or need blackout shades, streaming capability and your favorite high-powered playlist for your early-morning spinning class, you can have the gym that inspires you to reach your fitness goals.
We're here to help
If you've been dreaming of your own smart home gym for, we're here to help. Whether you want a decked-out, dedicated space or need just a few pieces to get you started, we have the pros and the resources to help you create an immersive workout experience.