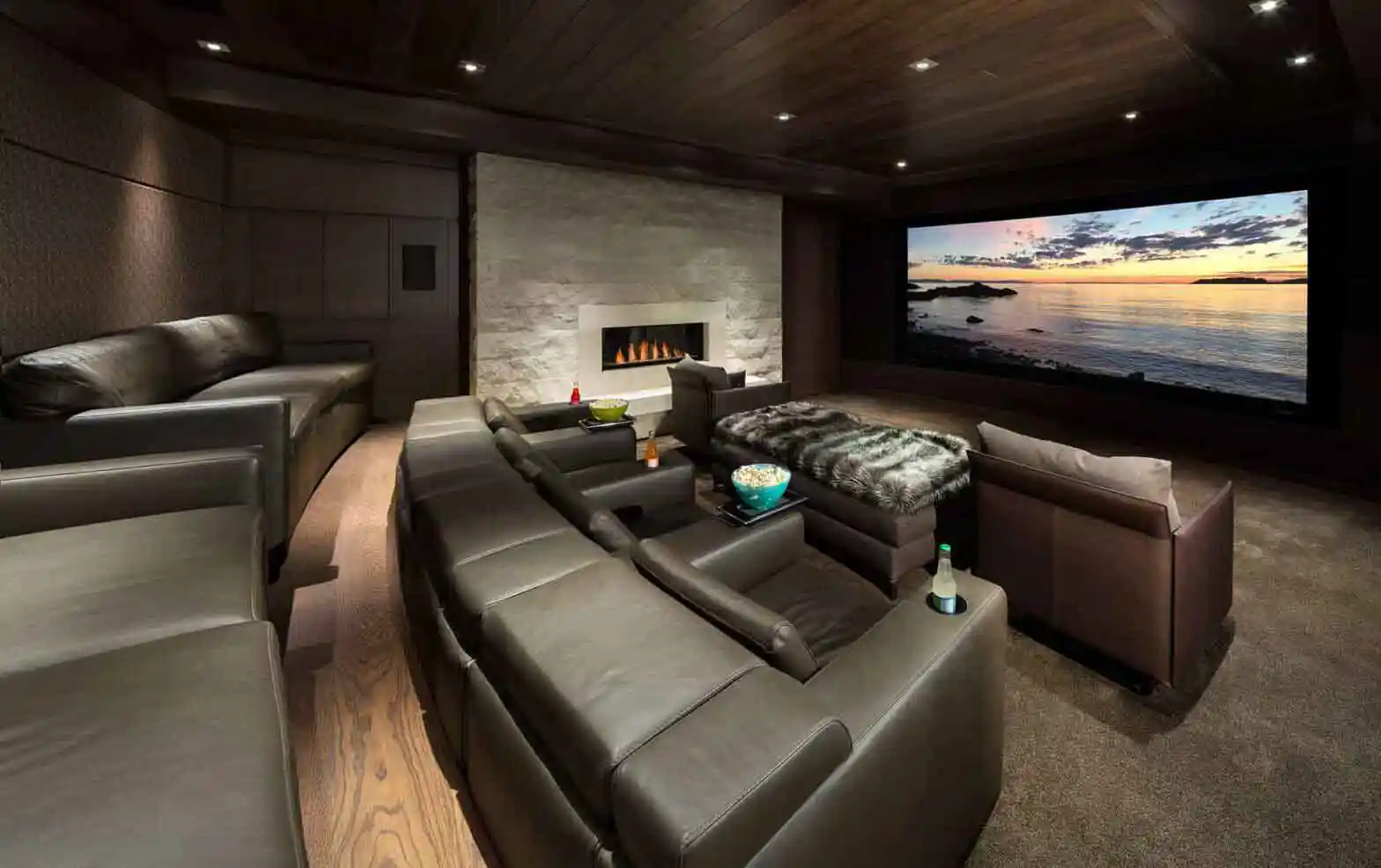 What We Do
A Life Lived Best at Home.

What does a systems integrator do? Well, your home is about comfort and security and that's exactly what we help to create. We create fully integrated electronics systems, personal home experiences that deliver the life you've dreamed of for yourself and your family.

Posted by La Scala Media on Saturday, March 4, 2017
We are a full-service residential and commercial custom electronics design and integration company, specializing in home automation services. As one of the top smart home automation companies, our smart home technology solutions are designed to make your home safe; and they are elegant, fun and easy to use. Businesses experience increased productivity, enhanced environments for employees and customers, and with easy control. Our highly experienced team of smart home installation service experts has been recognized by their peers for making their number one priority providing the best products and services to our clients.
Why choose La Scala?
"What makes La Scala different?"
We listen
We may give you lots of ideas, provide information on what other clients have chosen in terms of options and features of our home automation services, but we feel that listening to you tell us about your lifestyle and your ideas will give us what we need most to design a system for your 'Smart Home', whether in Vancouver or anywhere, that will perform in a way that will benefit you and your family the most.
We care
From the first time you meet with our home automation specialists in Vancouver and experience some of our home automation system features at our Experience Centre, we believe you'll see that everyone here is interested in you, rather than the other way around. La Scala hires on attitude first, aptitude second.
We provide after sales service
Customers want to believe that this is a given. Unfortunately, it is not so in this industry. The La Scala team of home automation specialists in Vancouver are always interested in your needs, now, and for the long term. La Scala has the only full-time in-house Service Department in the region, and their primary task is to service our many customers. Whether one needs to add, change, repair, or upgrade, we're here for you.
Awards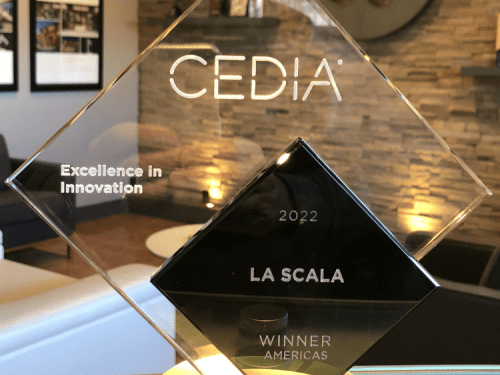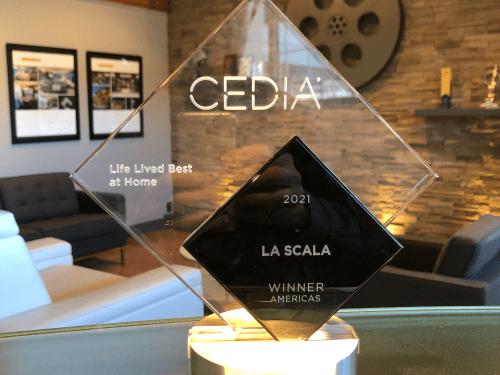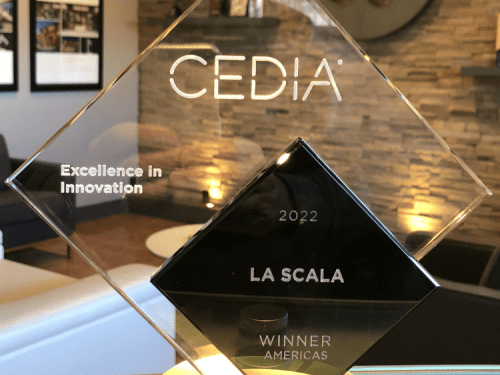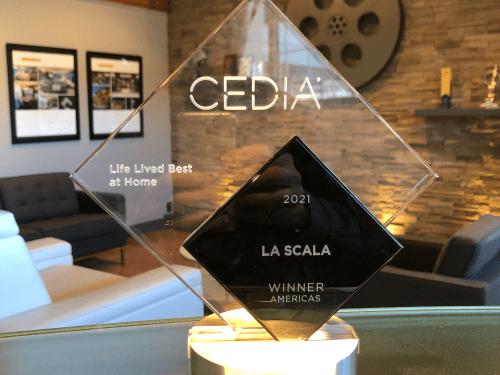 Our Process
The La Scala Difference:
We provide a detailed consultation process and proposal for the best results possible.
We provide engineering documentation for every phase of your project so there are no mistakes.
A dedicated project manager works with your Contractor from start to finish.
We have full-time service technicians for ongoing support.
Step 1: System Design
After a brief phone consultation with you to get some basic details of your building plans, we will ask for a copy of your blueprints in a digital format. We will use the plans and information gleaned from our discussion to make up a first draft proposal for further discussion at a sit-down meeting. This process will save you time. Our home automation installation team in Vancouver will then ask to meet with you to show you examples of our work, what other clients have done, and listen to what you have to say, with a goal of refining the proposal to fit your personal needs and budget further. We understand that everyone's time is valuable, but if you invest some time discussing your needs all round, you will get the best results possible.
Unlike many Vancouver home automation companies out there who provide you with a parts list; which tells you little to nothing, or at best provide a vague or unspecified list of functions, we will provide full documentation that shows you exactly what your system will do for you. You'll understand what smart home installation services we are proposing, how they will work, and what it will cost, with an attention to detail that few can or will provide. Based on your input, we will make any adjustments needed to tailor the quotation to your preferences, and ultimate approval.
Step 2: Engineering
After the consultation process is complete and a finished scope of work is agreed to, our engineer and designer will begin producing the technical documentation needed for the three phases of your project: prewiring, trim-out, and final installation, generating the information we will use to produce your project. Our engineers will remain engaged throughout your project, working with our project manager to ensure a successful installation.
Step 3: Implementation
During all phases of your project, one of our Project Managers will be directly involved, making sure that all details are taken care of, from acceptance to final completion. Your project manager will coordinate with the General Contractor, communicating scheduling, documenting any changes to the project as they develop, and providing professional guidance on any questions you may have as your project progresses. Once your system installation is complete, the Project Manager will submit all documentation back to our engineer, who will update your documentation to "as built" so we will have the information needed for ongoing service of your system going forward. We provide a copy of this information to you as well.
Step 4: Service and Support
Once your project is complete, our in-house home automation service department will take over any needs that you may have. Service is truly a key to your long-term satisfaction. By having specialized technicians dedicated to dealing with service issues, your needs regarding the services are dealt with properly and in a timely manner. We make it a priority. As one of the top Vancouver home automation firms, we feel that this service sets us apart from others in our field. In fact, we know it does.
How we accomplish our goals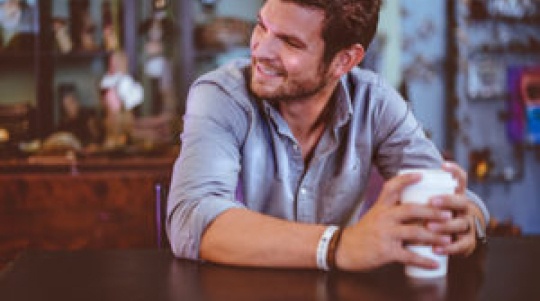 All of our services are offered in-house; we do not contract out our work. This is a commitment, not only to our clients, but our team, as we understand that if we are to achieve consistent results for the smart homes we produce, whether in Vancouver or elsewhere, we need an engaged, knowledgeable, and well-trained team.
We understand that constant vigilance is essential for us to achieve consistent, high-level results. For this reason, we are strongly governed by process, the fruit of experience. Since we are virtually the last trade to be in your home prior to your residing there, our aim is to complete our tasks in the shortest time possible, to get you enjoying your home as soon as possible. For this reason, our processes include the complete racking, programming, and commissioning of your system before it is delivered to your home. This ensures that we are ready to complete your system promptly.
We are so certain of our processes that we offer a lifetime warranty on our workmanship – unprecedented in our industry. This is our way of honouring our commitment to you.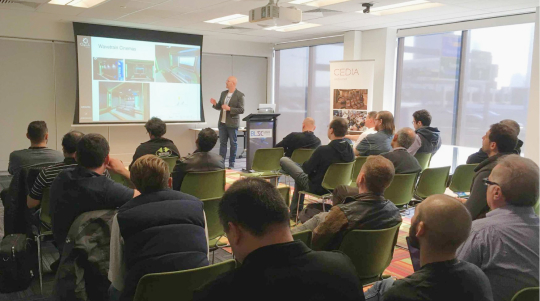 Inward facing: We are fully committed to training, and our culture supports constant improvement and learning – this is part of what it takes to be the best in class. At La Scala, we believe our ability to consistently achieve high level results can be accredited to our highly trained and experienced team, dedicated to achieving excellence.
Outward facing: When it comes to training our clients, we take a 'See, Do, Repeat' approach to teaching you how to use your system. Because our systems are incredibly intuitive, it typically requires very little training to get into the swing of it. Whether you pick it up slowly or fast, our team of experts will be there to guide you every step of the way. Even years after an installation, we'll be happy to give you a refresher. We can also produce a great user manual if you prefer a visual approach.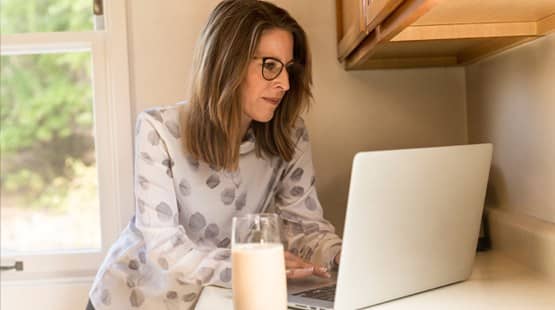 While there are new products constantly being introduced to the market, La Scala is wary of "the latest/greatest", as some products are not what they appear to be. Every single piece of equipment that we provide in our Solution-Based systems is researched, tested, and proven before it even gets on a Customer Proposal. La Scala backs up every single system we provide with a one-year all-encompassing warranty as part of our package. We can do this because we expect the products we've researched and tested to continue to provide solid, reliable functionality for years to come. In addition, we are constantly developing updated solutions for customer needs and wants. Staying on top of the latest trends and making sure that the products provided continue to work to specification does take time and effort. The La Scala Team are proud of what they accomplish; so doing our due diligence is just part of our job. We know our customers will appreciate our efforts.
What is CEDIA?
CEDIA, the Customer Electronic Design and Installation Association, is the international trade association and central touchpoint for 3,700 member companies that represent every facet of the ever-evolving technology market. CEDIA members deliver technology solutions that allow people to experience their best moments in life from the comfort of their own home. La Scala has been a proud member of this organization for many years, because they represent people like us who care about what they do, and build a relationship with their customers.
What are the CEDIA awards?
The annual CEDIA Awards competition provides its members the opportunity to show their work through documentation, video, photographs, and scope, to a group of industry experts who judge all work. Award-Winning projects demonstrate technical excellence in all aspects of design, installation, and commissioning while meeting all applicable industry performance standards. Each year a very limited number of awards are presented to the top performers in their class. The judging is done blindly so that the judges do not know who's work they are assessing, and therefore the awards are given in an impartial and fair manner. La Scala has won countless awards over the years, and in recent years won more awards in one year than any other company in the history of the association. La Scala is given such accolades because La Scala's team works diligently to make each and every project a winner for their customers. It's as simple as that.
The Scoop on our Industry
To be frank, many individuals and companies in our field can supply a vast array of products to any project. Yes, there are some 'less than desirable' products out there, some of which are well marketed as being just the opposite. There are products that are poor value as well, but our research team makes sure that we are offering good quality and good value to our clients. Even if you know you're purchasing quality products, the other very important factor is who is installing them, integrating them, programming them, and servicing them. The difference is in how all of the products fit and work together as a system, along with the company you hire having the ability and inclination to follow up with their client through to the completion of the project, and being available for future service as needed. We've found that historically we haven't been the lowest priced in the crowd; but our people care about your system when they're designing and installing it and after, and we do use excellent products (that don't necessarily cost more). We treat our relationship with you as a long-term one. Just as your family vehicle needs service from time to time, so too will your system. The difference is that we will be here when you need us to perform the service. In short, we put more into making your system great, and sometimes that does cost a little more, but the value remains.