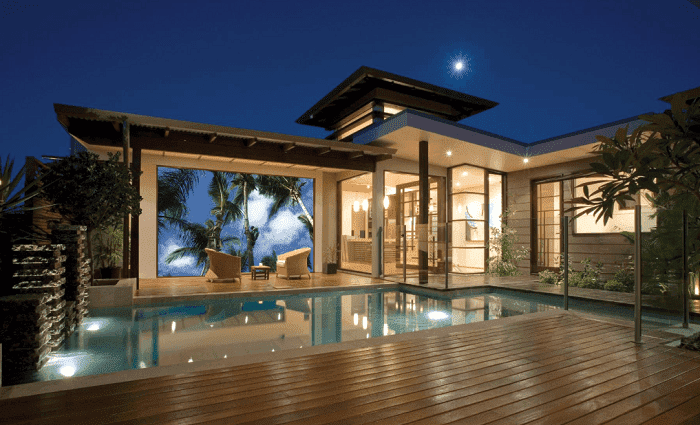 Does your family enjoy gathering in your home theater for movie night? Do you like to host watch parties of your favorite sporting events with your friends gathered around the big screen in your media room? With spring ushering in warmer weather, why not take the entertainment outdoors? Imagine catching the game from the comfort of your covered patio or offering rafts for your kids and guests to enjoy a movie while afloat! The best seat in the house may not be in the house after all!
You may already be streaming your music through outdoor speakers or watching your weatherproof LED while tending to your outdoor grill, but imagine upping the entertainment by creating an outdoor theater under the stars with a larger-than-life, jaw-dropping projection screen?
Starry, Starry Night
An outdoor theater adds elegance and entertainment value to your outdoor living space. It can boast an exceptional image as well as uncompromising sound. And the sound system can be multi-use, filling the space with music by day and heart-pounding theater audio at night.  You can stream from your favorite movie service or share content from your media room system or home theater. But unlike your indoor space, you won't need to paint a constellation on the ceiling!
Button Up
Like other specialized outdoor AV gear, weather-resistant options are available for projectors and projection screens. Projectors can be housed in a climate-controlled mounting box or cleverly mounted for quick set-up on movie night. Screens can cleverly roll down from beneath your home's eaves, pop-up from custom enclosures or occupy an outdoor wall. With limited to no "ceilings" to mount from however, determining where the projector can be installed can require some creativity. And added throw distance and lumens may be required to achieve exceptional picture quality. Fortunately, we excel at this!
Always in Control
For uninterrupted enjoyment you'll want a robust network and remote control to access your home's system. Several waterproof remotes are available, giving you the ability to control everything -even when you're in the pool! Control of elegantly designed landscape and patio lighting completes the outdoor living space. Lighting can accent feature areas and walkways for drama and safety while allowing separate control of zones surrounding the screen area.
Interested in exploring your choices in an outdoor theater? Warm weather is on its way! Now's the time to get planning so give us a call us today!