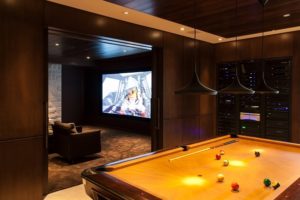 Technologies for today's homes and offices are sleek, contemporary and elegant. Some elements, such as touch panels, custom-framed displays and speakers that look as incredible as they sound, are meant to be seen. But then there's the behind-the-scenes components; the receivers, amplifiers, switchers…all the things with the blinking lights and knobs that you choose to either showcase or hide away. Either way, they all "live" somewhere and that somewhere has specific requirements.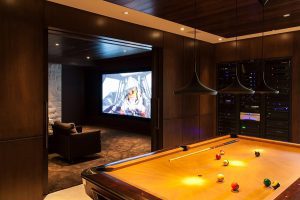 Technology systems are comprised of various electronic components that require power and, inherently, produce heat. Like your laptop or other electronic devices, they need proper ventilation for reliable, peak performance. Not all furniture is suitable to store electronics.
Choices for housing audio video gear are numerous and offer clever solutions for providing air-flow, managing cables and allowing IR signal visibility when required. Regardless of whether your components are stored in an equipment rack in an out-of-the-way storage closet or front-and-center in a media cabinet or credenza, purpose-built AV furniture will provide these critical features.
The AV Rack
AV equipment racks are available in various heights, measured in rack spaces or units, depending on the requirement of the components.  They can be installed inside of a media cabinet, on a wall using a swing-out mount or placed on casters for ease of accessibility when servicing. For extensive whole-house or integrated commercial systems, multiple racks may be required. Racks can be placed in the room or located in an off-area such as a centrally located, climate-controlled closet. Some installations will require forced ventilation through the use of thermostatic rack fans that will draw heat from the gear.  When gear is stored in an enclosed unit, it is imperative that air be allowed to flow so that the heat can adequately dissipate.
Wireless But Not Cordless
The beauty of an integrated system is, well, that it's integrated; all the systems "talk" to each other.  Talking equals connectivity and connectivity equals cabling and cords, including wireless solutions. While wireless gear and speakers offer elegant, wire-free signal, electronics still require power. AV furniture provides access to the components as well as rack "rails" or channels to attractively conceal or "manage" the wiring.
Once the cabling leaves the rack or unit, the best path for wire runs needs to be determined, along with factoring in the length of the run and calculating conduit specifications.  This is where LaScala shines. We've got the tools and know-how to get cables from Point A to Point B with minimal impact and while factoring in future demands and incorporating those unattractive wires into an aesthetically pleasing (or even invisible) design.
Depth is also a consideration when placing components. In addition to allowing some space for airflow, connecters and cables add to the depth required for the back of the gear.  At a minimum, plan for a depth of 20". Knobs and control access are also a factor for various reasons. First, units with doors need suitable clearance to close properly. Second, if the system is IR-controlled, a clear line-of-sight must be established otherwise an IR distribution system will be required.
Gaming consoles and media storage present additional considerations. With all that processing going on, game consoles give off considerably more heat than AV equipment and, while they are RF (radio frequency which does not require sightline) allowing for entertainment unit doors to remain closed, gamers still need convenient access to the unit to charge their controllers.  And, even though it seems the thing to do, Media should be stored separately from electronic equipment so the heat does not affect the digital content.
Customization and Communication
While audio video racks and entertainment units are available in a wide variety of sizes and styles, custom units are often desired. Some people embrace the high-tech electronics and incorporate the sophisticated gear into the room's design through custom-framed racks that face the interior. We love this approach but advise that they be installed at the back of room so as not to be a distraction while viewing an LED display or projection screen.  Another popular solution is that of the "floating" shelves or enclosed media unit. These units are bracketed to the wall without a base as if they are hovering above the floor. For any of your custom work, we can provide you or your interior design professional with detailed drawings and/or dimensions for millwork. We will also communicate with your electrician or other trade where power drops need to be located.
Form and Function are One!
Today's purpose-built AV furniture – credenzas, entertainment centers and glass étagères -will offer proper ventilation, accessibility to components and elegant wire management.  We'll determine the space requirements and share with you and your designer a variety of elegant choices or, when a custom solution is desired, provide the details needed to create the perfect solution for your home or office technology.