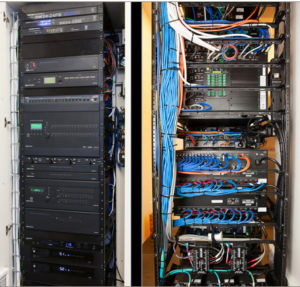 We've recently talked about getting together to assess your home's technology systems. It's always a good idea to make sure you're abreast of the latest technologies available and how to implement new devices both now and in the near future. The other key to satisfaction with your technology systems is ensuring their technical health. Simple things, such as cleaning components in the equipment rack, go a long way in preventing equipment from overheating. Part 2 of our annual Tech-Up addresses the advantages in having a preventative maintenance plan that would include a visit from one of our technicians.
Proper Digital Health Requires a Regular Check-up and Some TLC
While everything may be running smoothly, it's possible you're due for a firmware or software update that could potentially activate new, desirable features. We'll put your network and systems through a thorough test to ensure functionality and make necessary security updates. We'll also check to make sure everything is properly connected to your network, preventing trouble down the road.
We suggest you make a note of any questions you'd like to ask during the service call and be sure to advise us of any new devices, features or systems you're interested in learning about or adding.
An Ounce of Prevention
To optimize your enjoyment and satisfaction and to prolong the life of your system we offer our LaScala Client Care Plan. The Plans offer proactive monitoring and maintenance of your systems. Our goal is zero system downtime and 100% client satisfaction. We understand that from time-to-time, equipment will fail. The goal of our Plans is to be able to discover problems before they occur.
Healthy Network, Happy Home      
All La Scala systems are backed by a Lifetime Warranty on workmanship without exception and our annual service programs ensure years of uninterrupted enjoyment of your system. A proactive service visit with a LaScala Client Care plan would typically include:
Thorough check of network, AV and Smart Home systems, testing each system through a complete operational check to ensure functionality.
Firmware, software and security updates installed as needed.
Minor programming and personalization improvements.
Analysis and tweaks of audio and video performance
Your home technology is a part of your everyday life. We want you and your family to get the most out of it and we want you to know we're here to help. We'd love to hear from you – please call or email us with any questions or to schedule your maintenance visit today!