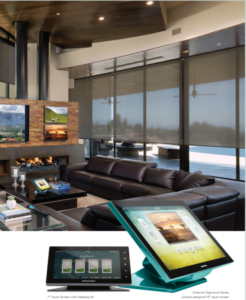 Company's Coming to Town!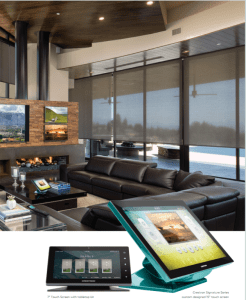 The holidays are around the corner! Soon our homes will be filled with festive decorations, mouthwatering scents wafting from the kitchen and guests to entertain! Whether you've been thinking about sprucing things up before your guests arrive or simply want to make some comfortable home improvements that will add to your holiday merriment, here are some things you may wish to consider.
Home for the Holidays
Nothing says "Welcome" quite like lighting design. From the moment your guests turn the corner, they'll see your beautifully lit landscape and inviting walkway.  Highlighted artwork and the soft glow of a chandelier in your foyer make a stunning first impression. Programmed lighting scenes can transform the mood at the touch of a button (or a simple "ask" of your voice control). An "Entertain" setting may turn your kitchen into a bustling center of activity full of food prep and laughter while lowering the downlights, sconces and chandelier in the dining room, setting the stage for the elegant evening meal. Following dinner the lights come back up to your "Clean-up" setting and your favorite holiday playlist ques up, drawing everyone to gather around the fireplace (also integrated into your Crestron home automation system).
On milder evenings you may wish to entertain on your covered patio. Lighting scenes showcase architectural features, planters and fountains for added drama while highlighting uneven walking surfaces and stairs for comfort and safety.  You and your guests can enjoy cozying up with your quilts around the firepit to watch your favorite holiday classics on a weatherproof TV or outdoor projection screen.
If the weather outside is Vancouver "frightful", bring the party indoors into an updated media room or dedicated home theater. We'll help you plan the perfect space with plenty of plush custom cinema seating for everyone!
Be the Envy of Your Neighbors
If you're one who wants to share your joy and seek to become a "destination" (or the next viral video) by putting on an outdoor display that can be seen from space, you'll need a sound system that's worthy of the task. Those synchronized music and lighting displays are sophisticated but, if you have an integrated home automation system, we can get you in control and in "sync"!
While the neighbors are out gawking at the lights and enjoying the orchestration, unless you have an infamous Leg Lamp prominently displayed in your front window you may want to add some beautiful motorized window shades.  Automated shades can be integrated with your lighting scenes and come in an elegant array of weaves, styles and colors. They are the perfect solution for hard to reach floor-to-ceiling windows in voluminous rooms and can be on separate settings. They're also great for blacking out light in areas for TV viewing and are available for custom installations over skylights, stairway/foyer accent windows, etc. Check out this beautiful guide outlining the Top 10 Reasons to Add Crestron Lighting & Shades to Your Home for some great design ideas.
Like a Warm Cup of Cocoa
While preparing your guest rooms, imagine offering them the luxury of automation. Easy-to-read and use touch panels, keypads and hand-held remotes that control lighting, fans, fireplaces and more in their room add elegance and enjoyment to their stay.
All Snug in their Beds
While we're off dreaming of sugar plums, others are up to Grinch-like behavior scheming to steal the joy from our celebration. Yes, sadly, according to the FBI, nearly 400,000 homes are burglarized during November and December each year. Burglars are opportunists and will move to an easier score when a few simple deterrents are in place. Strong, automated door locks will keep them out while allowing you the ability to "buzz" your family and friends in if you're caught in holiday traffic. And nothing says "we're home" like well-timed automated indoor and exterior lighting. And your lighting control can be integrated with your home security system for even greater peace of mind.
So give us a call and let us help you prepare for the holidays! We'll put together the perfect system for you. All you need to do is create your holiday playlist, address your invitations and start shopping! Shopping? Oh yeah, we've got you covered there too! Stay tuned for our gift giving guide. We'll help you find something for every tech-enthusiast on your list!
Need more Décor ideas? Visit Vancouver Christmas Market
Entertaining ideas outside of your home: Top Things to do in Vancouver at Christmas
Lutron Lighting Design – Inspirational Design Gallery