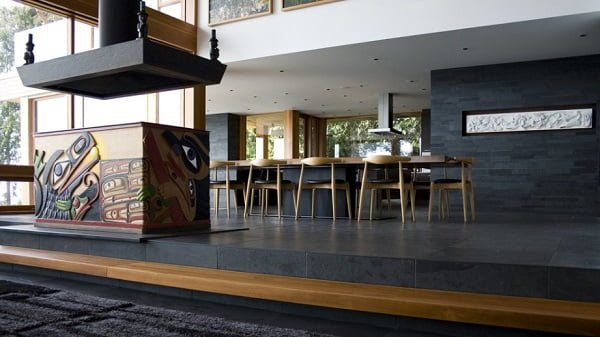 Whenever you think about the holidays, you probably think about presents or twinkle lights. Maybe you think about friends and family around the table, enjoying a meal and each other's company – or maybe you just can't wait for pie! The reality, though, is that you're probably spending a lot more time in the kitchen. Thankfully, there's new tech available to help you make sure you don't miss out on any of the festivities.
Make it personal
Your kitchen is one of the most personal, necessary rooms in your entire home and it's worth taking the extra time to personalize it with the right functionality to fit your lifestyle. Entertainment features like built-in audio or video screens, smart appliances and voice-controlled smart home automation like Josh.ai give you the opportunity to personalize your kitchen to suit your needs for not only everyday living, but for special entertaining, too.
 Your kitchen can be your new sous-chef
There are countless options currently available for smart appliances like refrigerators, ovens and "hubs" like Josh.ai, Google Home, or Amazon's Echo. And while these might seem a little frivolous at first, it's worth taking time to consider the added convenience of having them in your home. Having an app connected to your oven means you don't have to miss the football game or your favorite holiday movie, and that smart refrigerator can text you a picture of your refrigerator's contents and save you from a second trip to the store. Connect these smart appliances with a hub like Josh, and you've got an extra set of hands in the kitchen even when you're not at home!
 Smart appliance means safety
With hectic schedules, guests on their way and a lot on your plate, you wouldn't be the first to forget to turn off the stove, turn off the lights or feel like you need to be in two places at once. By incorporating the right smart technologies, you can maximize safety AND convenience in your kitchen. Your stove and oven can now warn you that they've been left on – instead of hearing the news from your smoke detector (or worse). You can also increase your energy efficiencies with smart appliances, which helps the planet and your wallet.
If a smart kitchen sounds like the right solution for your family this holiday season, let us help! We're here to guide you through the best smart technologies for you and your home.
Additional reading: Preparing Your Home for the Holidays