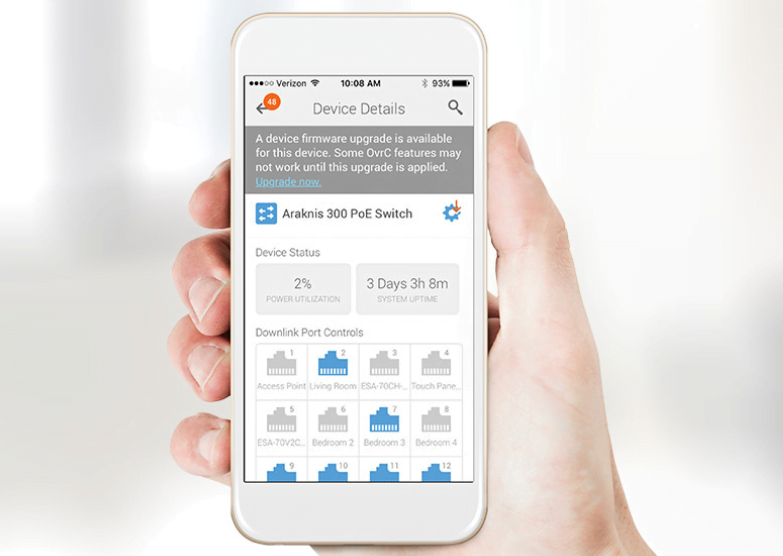 Revolutionary 24/7 remote management of your residential and commercial networks
As technologies get smarter, the technologies that support them need to stay a step ahead. And so do we. We pride ourselves in offering the very best in system design and installation, but sometimes new devices need to be added or updated, or the unexpected network issue occurs. Traditionally, troubleshooting and updates required onsite service calls, but OvrC changed that!
OvrC is a cloud-based remote management platform developed for custom integrators that enables us to remotely manage, configure, and troubleshoot devices on your network. Appropriately named OvrC (oversee), the revolutionary support platform allows us to gain insights into your network for remote diagnosis and issue resolution. This service can potentially avoid costly and disruptive service calls. Dedicated to providing you with the highest level of client care and support, we enthusiastically adopted this service model at its inception.
We understand you need to be able to rely on your network and each of your various connected devices, both at home and in your business, and that interruptions in service are frustrating and costly. With OvrC's comprehensive support systems, however, we can manage everything from your media room to a corporate networking infrastructure, ensuring all systems are running smoothly.
OvrC your home
We've all experienced it. You're hosting a get-together, or maybe working on a time-sensitive presentation from your home office, and the network goes down. Sound familiar? Well, with La Scala's expert client care programs that feature OvrC capabilities, the fix may be as easy as opening your personalized phone app and touching an icon to reset it yourself! For more complex issues, chances are we've already been alerted and are remotely troubleshooting it before you've even had a chance to touch the call button from your app. OvrC provides us with exceptional support so that we can provide you with incomparable support and customer service. See it in action!
OvrC your business
Network disruptions and downtime affect your productivity and are costly to your overall business operations. OvrC enables us "oversee" your systems in real-time, maximizing your uptime and minimizing potential revenue loss. Remote troubleshooting and issue resolution help avoid disruptive service calls. However, should an on-site service call be required, we'll be better informed and equipped to quickly resolve the problem.
When you need us
OvrC is the latest enhancement added to an already robust line-up of support offerings available to us at La Scala. In addition to the OvrC remote management system, we can live-stream video tech support enhanced by augmented reality and an Essential+ program providing you with:
Proactive support
Round-the-clock service
Fast trouble resolution
Mobile management – A personalized app that lets you fix common issues and manage your network at your convenience.
Remote Firmware updates –the latest software updates/upgrades to your devices remotely
We are constantly striving to provide you with the best possible long-term client experience. For us, there is no better investment than in providing you with reliable systems that keep your home and business up and running. Call us to learn more about the benefits of having La Scala "OvrC" YOUR network!