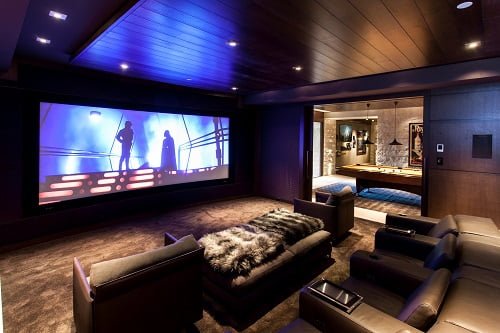 The quality of content these days is unprecedented, as are the vast number of options we have in accessing digital entertainment. Is your home theater or media room making the most of the high definition audio and video available? With summer blockbusters now available for streaming and the holidays just around the corner, now is a great time to add the home theater you've dreamed of or to upgrade your existing theater so that you may enjoy the very best audio and visual experience!
Whether you're a movie lover, serious gamer or avid sports fan, a dedicated home theater is an exceptional space for home entertainment. And with technologies like Dolby Atmos and 4K, enjoying the sights and sounds in a room specifically designed for hi-performance audio and video create the ultimate entertainment experience!
What's the right choice for you? Home Theater vs. Home Media Room
Your home media room offers a great space for enjoying some family-time movie-watching and for hosting your friends on game day. It can boast stunning OLED or 4K display quality along with Smart TV streaming and social media features. A well-designed and outfitted media room can also take advantage of exceptional audio through a surround sound or Dolby Atmos system. One potential downside however, is its central location; today's open floor plans often place the media room adjacent to the kitchen. While this is great for engaging conversation, it is not ideal for either sound or picture quality as the room is open to the back and likely flooded with natural light. These features distract viewers from enjoying a truly immersive movie-watching experience.
Creating an immersive cinematic experience
A dedicated home theater includes technologies specifically designed to perform in the controlled space. Acoustic issues have been addressed for optimal sound as well as for noise-control from adjacent spaces. Custom seating is ideally positioned for comfort and viewing enjoyment rather than based on window placement or conversation. Speaker systems, like Bowers & Wilkins flagship custom theater series, can be positioned and calibrated in the defined space as designed.  This space is generally free of glare as it will rarely feature windows. If there are any windows, they will have been treated with black-out shades to maintain the perfect environment to soak in an afternoon football game or to binge-watch your favorite streamed series.
In a purpose-built space, décor doesn't depend on the rest of the house, so the sky is the limit (actually, it's not; you can add a custom fiber-optic constellation mural on the ceiling!). A home theater is also a place that reflects your personality and style– from mid-century modern to transitional or something all "you" like the Millennium Falcon, Batman's lair or a wine cellar reminiscent of the south of France. Here's a little inspiration: CinemaTech Gallery.
The set up can be one or multiple screens, or a hybrid of multiple screens for watching sports with a large projection screen that drops down for serious movie watching. Integrated controls allow the user to choose from a variety of streamed or local content. The content may be exclusive to the theater or shared across the home's systems from a movie server.
Theater Trends
Aside from mind-blowing imagery and sound, what's trending in custom theaters now?
Wearable home theater & virtual reality – experiencing virtual reality through wearable technology that transforms your movie-watching experience.
Social Media integration – Superfans of sports, gaming and original network series want to connect in real-time
Seamless connectivity across a robust network
Integrated control throughout the home, with access to content sources, control of security features, whole-house lighting, HVAC and more
Voice Control – Limitless searching, command and control of the theater and smart home's multiple features including the ability to order your showtime pizza via a voice control interface such as Josh.ai!
Where will you be hosting holiday game-watching and cozy mid-winter movie nights? Give us a call and let's get started planning the best seat in the house! Oh yeah, Josh, please start the movie!