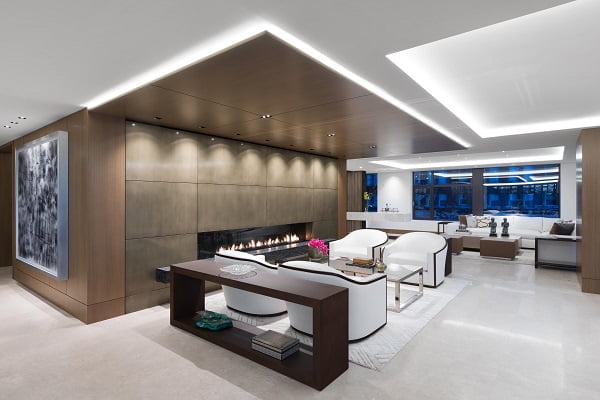 This stunning waterfront residence earned three of the custom electronic design industry's most prestigious awards: Best Integrated Home, Technology Meets Design and Life Lived Best at Home.
The "Technology Meets Design" award celebrates the best integration of technology that complements the design scheme for the room or home. The judges, drawn from the  architecture and interior design community, were looking for a project that showed a successful working partnership with the integrator and design and build industry partners and our relationship with Vancouver's Aaron MacKenzie-Moore Design was nothing short of exemplary.
"La Scala's ability to incorporate technology into the home's aesthetics are in full evidence here, as the team says:
The homeowners love to entertain but made it clear that the interior look and quality of finish must not be compromised with the introduction of technology. Sound was expected in all rooms of the home but not seen. Invisible speakers were used in 16 zones which included all three guest suites, hallways, closets, laundry room, and invisible subwoofers rounding out the sound in the family room. The media room is a non-traditional room that is also used as a reading lounge that overlooks the beach.
Soft furniture, motorized roller shades, and heavy fabric curtains were included to soften the hard surfaces and increase the acoustic opportunities, as well as to block out the ambient light coming from the beach-front windows.
Life Lived Best at Home, a CEDIA Cornerstone
Having won in the "Best Integrated Home" and "Technology Meets Design" categories, the judges sought a winner for the "Life Lived Best at Home" designation. Beyond the technology and aesthetic design considerations, the judges now were looking for a "residence that used technology to maximize and enhance the client's lifestyle, providing functionality, safety, entertainment, convenience, aesthetics, and efficiency." Not only did this project incorporate the technology beautifully into the home's design, but the judges agreed that it encompassed the homeowner's desires, considerable enhancing their lifestyles.
A scene called "Movie Night" on the control system, which softens the media room by dimming the lights, rolling down the shades, and drawing the curtains while turning on the media room components.
A single button solution puts the home into "Entertain" mode. The system needed to be flexible, so the homeowner could make minor scene adjustments without the need of a programmer or site visit.
We offer a few control solutions, but the feature of using real pictures of the home to navigate the control system was very appealing for our clients. The Savant system provided this option.
The team at La Scala is extremely pleased with the project outcome and proud of the recognition received. Please contact us to learn more and visit the links below to view the project gallery and read about the additional accolades yet to be won for this gorgeous waterfront home.
See the Gallery of Photos
International Design Award Excellence Finalist SBID 2018
IDIBC 2018 Shine Awards of Excellence