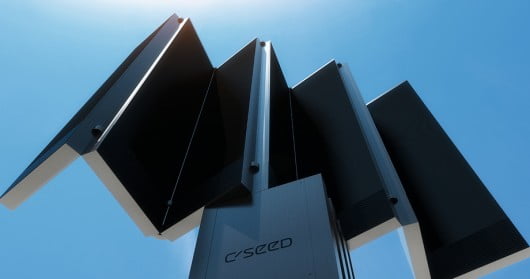 The C SEED 201 designed by The Porsche Design Studio brings you 201-inches of backyard entertainment.
Redefining the way we entertain outdoors, Porsche Design Studio has blown up the outdoor cinema experience with the C SEED 201-inch retractable/rotatable outdoor LED TV. With a press of a button the waterproof TV catapults from your lawn & unfolds in 40 seconds unveiling its sleek beauty. With built in sub-woofers & 2,100 watts of power you will be sure to entertain the neighbourhood.
Not quite the right viewing angle from your outdoor couch? No need to get up, C SEED rotates 270 degrees to accommodate. When not in use it glides safely into its underground silo away from the elements. With full HD video and its own multi-source media server, you can connect any video source including a game console to play larger than life games in your back yard. A truly unique entertainment experience for the elitist's backyard.
Watch the entertainment unfold…