Tag Archives:
home security
What you may not know about smoke alarms
You made a wise decision years ago to install smoke detectors throughout your home or business, keeping your family and property safe in the event of a fire. As the seasons changed, you've changed the batteries as recommended, but did you know that those trusted detectors actually have a limited shelf life?
It's not just the batteries that need to be replaced
Smoke detectors have an expiration date and many currently in use have exceeded their full functionality as dust has accumulated over time, desensitizing the sensors.  The National Fire Protection Association (NFPA) recommends replacing smoke alarms every 10 years.  The date of manufacture can be found on the back or side of the smoke alarm. Wired or wireless, all alarms should be replaced 10 years from that date and not the date of purchase or installation. Making sure they are in good working order is critical because, according to Lorraine Carli, vice president of Outreach and Advocacy for NFPA, "Working smoke alarms reduce the risk of dying in a home fire in half."
Interconnected smoke alarms offer an added measure of safety. Instead of just one sounding when smoke is detected, all units will be activated, signaling every section of the home. When replacing an alarm within a connected system, experts recommend replacing all units within the system, even if some are still working. In addition, any alarm that continues to chirp after its batteries are swapped needs to be replaced, regardless of age.
Resolve to put safety first in the New Year!
If you've got any questions about home life-safety and security or are interested in updating your current system or integrating a new system into your home automation system, please give us a call. We wish you and your family a happy, healthy and safe 2018!
Put Your Smart Home to Work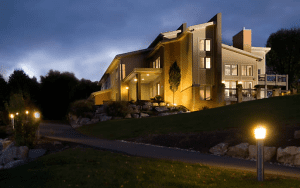 Throughout the year we strive to keep you abreast of the latest in technologies and trends. 2017 has witnessed the adoption of integrated voice control, amazing advances in LEDs, incredible strides in virtual reality and much, much more! Our smart homes are getting smarter, but how can we use their features to make our homes safer? Well, here are some simple ways to put your home automation system to work, ensuring you and your family a happy, healthy and safe holiday season.
Light it Up!
Every deterrent counts when your home's vulnerability is assessed and a well-lit home is your first defense against would-be burglars. Use landscape lighting, flood lights and motion-activated lighting around your entire home.
Fake them Out!
Inside & outdoors, create lighting scenes that realistically mimic your patterns while you're away. Lights, shades, televisions and even the Christmas tree can be programmed on alternating sequences to simulate that lived-in look.
Gate it off!
Be cyber safe by updating your home network. We're savvy to the latest potential threats and can help protect your home's critical infrastructure.
Lock it down!
If you've got a home security system, use it. If you don't have one, call us. If you've got one and haven't used it for a while, call us to schedule to check. Aside from deterring potential thieves, a monitored security system alerts first responders to fire and medical emergencies. And this is a great time to check that your carbon monoxide detectors are working properly.
Lock it Up!
Automated door locks (keyless smartlocks) with integrated alarms and anti-pick shields add an extra layer of security and convenience.
Keep an eye on it!
Enhance your security system with cameras and motion sensors. Their presence alone is a great deterrent.  You'll be able to keep an eye on things while away and access recordings should any misdeeds occur.
Download the App!
Embrace the technology at hand and use the myriad features available. They offer incredible convenience and peace of mind.
Pull the plug!
Eliminate the possibility of having your garage door breached while you're away for extended periods. Simply disconnect it from its power source.
Resist the urge!
We're our own worst enemies. Don't flaunt those exquisitely wrapped gifts in the windows for all to see, hold off on that social post from your exotic holiday locale until you're back home and break down the boxes that your new electronic toys came in to avoid curbside advertising of what's new on the inside.
Be smart and stay safe and healthy this holiday season. If you have any questions about home automation and its role in your safety and security, please contact us. We're here to help. Wishing you and yours the happiest of holidays.
Additional Resources:
A New Way to Keep Your Things Under Lock and Key
Outsmarting Cyber Crimes against Smart Technologies
Protecting Your Home from Burglars during the Holidays
Your vacation home should be just that, a vacation.  It's a restful sanctuary free from headaches, unnecessary chores and stress.  This is where an automated home can shine, literally.
You may be imagining your lakefront home with automated control of your lights, shades and water features. Or perhaps your mountain retreat with outdoor audio, a weatherproof LCD and remote control of your fire feature.  These features add enjoyment and value to your property.  But when you've made your Friday afternoon escape and pull into the drive, the last thing you want is a surprise such as a burst water heater, an A/C that's been left on or, worse, evidence of a break-in.
From basic security features and keyless entries to more sophisticated occupancy and water sensors, your home can alert you should something go amiss.  If a pipe bursts you can react immediately and get a service technician on the property, hours before you may be able to arrive.  You can grant him access and have the repair performed before long-term damage can occur.
As a rental property, there is a tremendous perception of luxury and value in automation.  Easy navigation of the home's unfamiliar entertainment system, for example, will increase their overall "experience" and enjoyment.  And they'll appreciate the added security, particularly in remote areas.  You'll appreciate that you can remotely mange your guest network, controlling which devices are allowed to be controlled, as well as the ability to turn off the A/C or heat when a door is left open.
Upon your guests' check-out, you can remotely assess the home's condition, ensure the lights are off, the shades are closed, the appliances are as they should be, the thermostat is set and the gate is latched.
When you're ready to plan your perfect vacation get-away home, give us a call, even if it's out of our area.  We can help design your luxury system and work with a trusted network of integration partners to make sure you'll receive the service you've come to expect from us.