Tag Archives:
custom window coverings
Company's Coming to Town!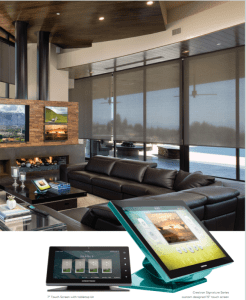 The holidays are around the corner! Soon our homes will be filled with festive decorations, mouthwatering scents wafting from the kitchen and guests to entertain! Whether you've been thinking about sprucing things up before your guests arrive or simply want to make some comfortable home improvements that will add to your holiday merriment, here are some things you may wish to consider.
Home for the Holidays
Nothing says "Welcome" quite like lighting design. From the moment your guests turn the corner, they'll see your beautifully lit landscape and inviting walkway.  Highlighted artwork and the soft glow of a chandelier in your foyer make a stunning first impression. Programmed lighting scenes can transform the mood at the touch of a button (or a simple "ask" of your voice control). An "Entertain" setting may turn your kitchen into a bustling center of activity full of food prep and laughter while lowering the downlights, sconces and chandelier in the dining room, setting the stage for the elegant evening meal. Following dinner the lights come back up to your "Clean-up" setting and your favorite holiday playlist ques up, drawing everyone to gather around the fireplace (also integrated into your Crestron home automation system).
On milder evenings you may wish to entertain on your covered patio. Lighting scenes showcase architectural features, planters and fountains for added drama while highlighting uneven walking surfaces and stairs for comfort and safety.  You and your guests can enjoy cozying up with your quilts around the firepit to watch your favorite holiday classics on a weatherproof TV or outdoor projection screen.
If the weather outside is Vancouver "frightful", bring the party indoors into an updated media room or dedicated home theater. We'll help you plan the perfect space with plenty of plush custom cinema seating for everyone!
Be the Envy of Your Neighbors
If you're one who wants to share your joy and seek to become a "destination" (or the next viral video) by putting on an outdoor display that can be seen from space, you'll need a sound system that's worthy of the task. Those synchronized music and lighting displays are sophisticated but, if you have an integrated home automation system, we can get you in control and in "sync"!
While the neighbors are out gawking at the lights and enjoying the orchestration, unless you have an infamous Leg Lamp prominently displayed in your front window you may want to add some beautiful motorized window shades.  Automated shades can be integrated with your lighting scenes and come in an elegant array of weaves, styles and colors. They are the perfect solution for hard to reach floor-to-ceiling windows in voluminous rooms and can be on separate settings. They're also great for blacking out light in areas for TV viewing and are available for custom installations over skylights, stairway/foyer accent windows, etc. Check out this beautiful guide outlining the Top 10 Reasons to Add Crestron Lighting & Shades to Your Home for some great design ideas.
Like a Warm Cup of Cocoa
While preparing your guest rooms, imagine offering them the luxury of automation. Easy-to-read and use touch panels, keypads and hand-held remotes that control lighting, fans, fireplaces and more in their room add elegance and enjoyment to their stay.
All Snug in their Beds
While we're off dreaming of sugar plums, others are up to Grinch-like behavior scheming to steal the joy from our celebration. Yes, sadly, according to the FBI, nearly 400,000 homes are burglarized during November and December each year. Burglars are opportunists and will move to an easier score when a few simple deterrents are in place. Strong, automated door locks will keep them out while allowing you the ability to "buzz" your family and friends in if you're caught in holiday traffic. And nothing says "we're home" like well-timed automated indoor and exterior lighting. And your lighting control can be integrated with your home security system for even greater peace of mind.
So give us a call and let us help you prepare for the holidays! We'll put together the perfect system for you. All you need to do is create your holiday playlist, address your invitations and start shopping! Shopping? Oh yeah, we've got you covered there too! Stay tuned for our gift giving guide. We'll help you find something for every tech-enthusiast on your list!
Need more Décor ideas? Visit Vancouver Christmas Market
Entertaining ideas outside of your home: Top Things to do in Vancouver at Christmas
Lutron Lighting Design – Inspirational Design Gallery
As chic as they are functional, motorized window treatments provide elegance and convenience to any space. They harvest natural daylight in sleek, sophisticated styles.  Motorized window coverings integrated into your home's automated system make life easier, especially since many can now be controlled with your smart phone or tablet.  And, as they have become more popular in recent years, an added benefit is the increased value they bring to your home or office space.  But that's just scratching the surface.
Designer-centric
There is a fabulous array of styles and custom solutions available that will complement any setting.  Aside from the huge variety of colors, patterns and weaves, the types of coverings are also extensive, ranging from pleated to honeycomb and roman shades to automated draperies.  Motorized treatments are even available for skylights, vertical and bottom-up applications for a unified design across all openings.
A 2017 trend is "clean", multi-layered window treatments, pairing simple drapery panels or sheers with blinds or shades for the perfect combination of light and privacy.  As a CEDIA (Custom Electronic Design & Installation Association) professional, we'll partner with your Interior Designer to create an expert blend of technology and design, pairing the right combination of weave and color with exquisite patterns and luxurious textures.
Another design-friendly benefit is the prevention of fading of fine furnishings through the UV protection properties of the shades. Aside from the practical aspects, the design applications seem endless! Window treatments no longer rely on wired connectivity and power. Battery-operated units allow for use on doors and other applications where wiring is not possible.  Motorized shades and draperies are not confined to windows either. Imagine the drama of elegant draperies parting at the touch of a button to reveal your home theater screen! Or being able to install a hidden drop-down projection screen in front of a window thanks to having black-out shades! For more ideas, visit our gallery.
Eco-friendly
Energy-saving is a prime function of shades. They are designed to both harvest daylight and block generated heat, offering substantial reduction in costs.
People-friendly
Window shades promote biophilic design, maximizing sunlight while reducing glare and fatigue.  While natural light is often sought to fill space however, according to a recent blog in ASID's icon, "…sometimes natural light is just too bright. Blocking it out can be as important as letting it in. New innovations and technologies in shading are making it easier for designers to obtain the optimal balance of highly sought natural light and much needed light control."
Another people-friendly feature is serving as nature's alarm clock.  Imagine the peaceful, subtle awakening to the natural glow of sunrise.  Shades can be set to open gradually in the morning and close again at sunset.
Safety & Security
An important advantage to motorization is the lack of chains or cord pulls that entice children and pets, posing a serious safety hazard.  Another advantage is in your home's security.  Just like programming lights to go on and off throughout the day while you're away, shades opening and closing simulate a lived in look, deterring break-ins.
Privacy
Shades are an elegant solution for privacy.  They are perfect for hard-to-reach windows such as those surrounding your garden tub, an elevated vaulted ceiling area or featured stairwell niche.  In a space with multiple windows and French doors, this is a tremendous convenience and time-saver. And some fabrics even offer a one-way weave, blocking visibility into your house or hi-rise without interrupting your view to the outside.
In an office environment, shades are a simple solution to transforming glass-enclosed conference rooms into private meeting spaces.  Coupled with their acoustic properties, they also contribute toward privacy compliance measures.
If you're considering updating your window treatments, consider not only integrating them into your home's design, but into your home.  Let us show you why LaScala is "The Art of Technology" and how shades can transform your home or office.
Additional Resources:
Houzz: Small Luxuries: Motorized Window Coverings Offer Benefits to All
Electronics House: 10 Things to Know About Motorized Shades
http://www.lutron.com/en-US/Residential-Commercial-Solutions/Pages/Residential-Solutions/ShadingSolutions.aspx
https://www.lutronfabrics.com/fabrics/shade-type/roller-shades and check out inspiration gallery