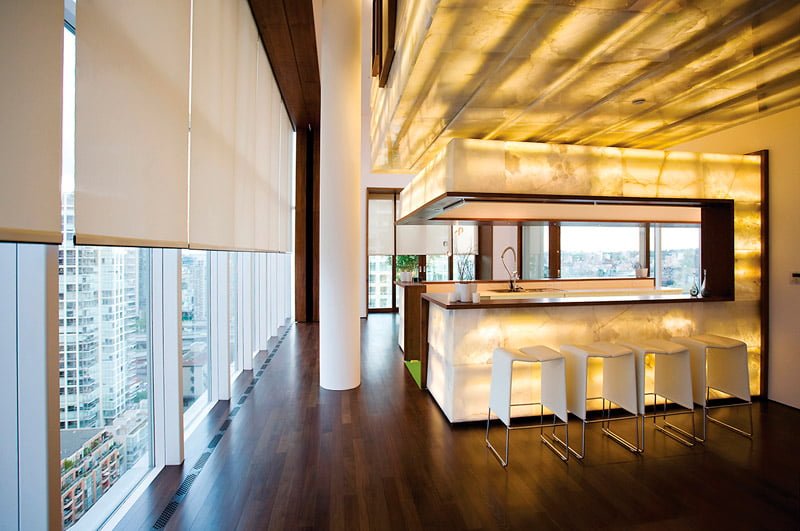 As chic as they are functional, motorized window treatments provide elegance and convenience to any space. They harvest natural daylight in sleek, sophisticated styles.  Motorized window coverings integrated into your home's automated system make life easier, especially since many can now be controlled with your smart phone or tablet.  And, as they have become more popular in recent years, an added benefit is the increased value they bring to your home or office space.  But that's just scratching the surface.
Designer-centric
There is a fabulous array of styles and custom solutions available that will complement any setting.  Aside from the huge variety of colors, patterns and weaves, the types of coverings are also extensive, ranging from pleated to honeycomb and roman shades to automated draperies.  Motorized treatments are even available for skylights, vertical and bottom-up applications for a unified design across all openings.
A 2017 trend is "clean", multi-layered window treatments, pairing simple drapery panels or sheers with blinds or shades for the perfect combination of light and privacy.  As a CEDIA (Custom Electronic Design & Installation Association) professional, we'll partner with your Interior Designer to create an expert blend of technology and design, pairing the right combination of weave and color with exquisite patterns and luxurious textures.
Another design-friendly benefit is the prevention of fading of fine furnishings through the UV protection properties of the shades. Aside from the practical aspects, the design applications seem endless! Window treatments no longer rely on wired connectivity and power. Battery-operated units allow for use on doors and other applications where wiring is not possible.  Motorized shades and draperies are not confined to windows either. Imagine the drama of elegant draperies parting at the touch of a button to reveal your home theater screen! Or being able to install a hidden drop-down projection screen in front of a window thanks to having black-out shades! For more ideas, visit our gallery.
Eco-friendly
Energy-saving is a prime function of shades. They are designed to both harvest daylight and block generated heat, offering substantial reduction in costs.
People-friendly
Window shades promote biophilic design, maximizing sunlight while reducing glare and fatigue.  While natural light is often sought to fill space however, according to a recent blog in ASID's icon, "…sometimes natural light is just too bright. Blocking it out can be as important as letting it in. New innovations and technologies in shading are making it easier for designers to obtain the optimal balance of highly sought natural light and much needed light control."
Another people-friendly feature is serving as nature's alarm clock.  Imagine the peaceful, subtle awakening to the natural glow of sunrise.  Shades can be set to open gradually in the morning and close again at sunset.
Safety & Security
An important advantage to motorization is the lack of chains or cord pulls that entice children and pets, posing a serious safety hazard.  Another advantage is in your home's security.  Just like programming lights to go on and off throughout the day while you're away, shades opening and closing simulate a lived in look, deterring break-ins.
Privacy
Shades are an elegant solution for privacy.  They are perfect for hard-to-reach windows such as those surrounding your garden tub, an elevated vaulted ceiling area or featured stairwell niche.  In a space with multiple windows and French doors, this is a tremendous convenience and time-saver. And some fabrics even offer a one-way weave, blocking visibility into your house or hi-rise without interrupting your view to the outside.
In an office environment, shades are a simple solution to transforming glass-enclosed conference rooms into private meeting spaces.  Coupled with their acoustic properties, they also contribute toward privacy compliance measures.
If you're considering updating your window treatments, consider not only integrating them into your home's design, but into your home.  Let us show you why LaScala is "The Art of Technology" and how shades can transform your home or office.
Additional Resources:
Houzz: Small Luxuries: Motorized Window Coverings Offer Benefits to All
Electronics House: 10 Things to Know About Motorized Shades
http://www.lutron.com/en-US/Residential-Commercial-Solutions/Pages/Residential-Solutions/ShadingSolutions.aspx
https://www.lutronfabrics.com/fabrics/shade-type/roller-shades and check out inspiration gallery