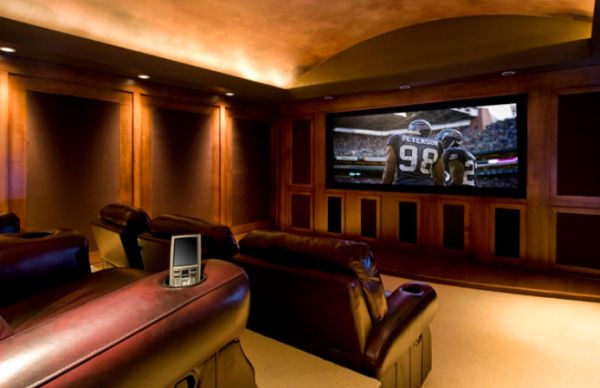 Content is king!  From subscription streaming to satellite, sources for content seem endless, and so are your options for viewing!  Whether you're hosting a Sunday afternoon of sports, a night of gaming, or any other excuse to have friends over, here's some tips to treat all your guests to their favorite team, game or conversation.
Multi-screen or Multiple Screens?
The popularity of picture-in-picture viewing has exploded with the recent, feature-rich 4K options available.  And video walls comprised of multiple displays are seeing a spike, taking full advantage of available content.  Configurations include a mix of flatscreens and projection, offering an endless range of size choices.  Some prefer one large, main viewing canvas, flanked by smaller screens, either symmetrically or asymmetrically placed.  Others prefer a massive video wall comprised of a grid of narrow-bezel displays that can be configured to toggle content across the entire grid or in a multi-screen matrix.
Another option is offering multiple screens throughout a space, providing viewing from several seating or entertainment areas.  This works well when incorporating spaces such a billiards table, bar area, casual seating nook, etc.  Mounting solutions for a video matrix is somewhat complex however.  Aside from a seamless installation, panels must be accessible for maintenance, allow for heat dispersion and more.
And keep in mind that any security feed, such as your front door camera or baby monitor, are sources that can be fed onto the screens as well. This is ideal when your media room is in the basement and you're watching for the pizza guy!
Design 
As an Electronics System Contractor, we will help with space planning and AV design and work alongside your interior design professional to ensure the best possible outcome, the perfect blend of aesthetics and technology.  Once you've decided on entertaining and viewing areas, there are a number of things to consider.
Optimize your room's viewing by creating multiple layers of seating.  Take the tiered home theater seating approach and apply it across your space to take advantage of line of sight from anywhere in the room.  A first tier could be a mix of sleek gaming chairs, multi-purpose seating/storage ottomans and kid-friendly bean bags that could be stowed away when not needed. For your main seating tier, modular sectionals offer terrific flexibility while some well-placed  swivel chairs keep viewers engaged and comfortable.  Hi-top tables and bar seating provide guests a clear shot across the room while offering spaces for intimate conversation or a competitive hand of poker. And don't ignore design conveniences like installing drink rails and providing side tables for your guests.
Sound
Audio does not take a back seat to video!  Designing the room's acoustics is essential for comfortable listening and conversation.  Thoughtful acoustic design and noise control reduces fatigue and allows guests in each area to enjoy content and conversation.
Seamless Audio Switching is also essential to content enjoyment.  As content is chosen or swapped across screens, the sound must follow without a distracting stutter.  We can program flawless source switching across your devices – no fumbling with multiple devices and no missed moments of the game!  No time here for amateurs!
Ready to host a party in your in-home sports bar?
Great! Call us!  We'll walk you through your choices, then design the system of your dreams that's robust but fun and simple to use. Better get stocked up on beer!
For more ideas, visit us on houzz. And check out our website gallery.