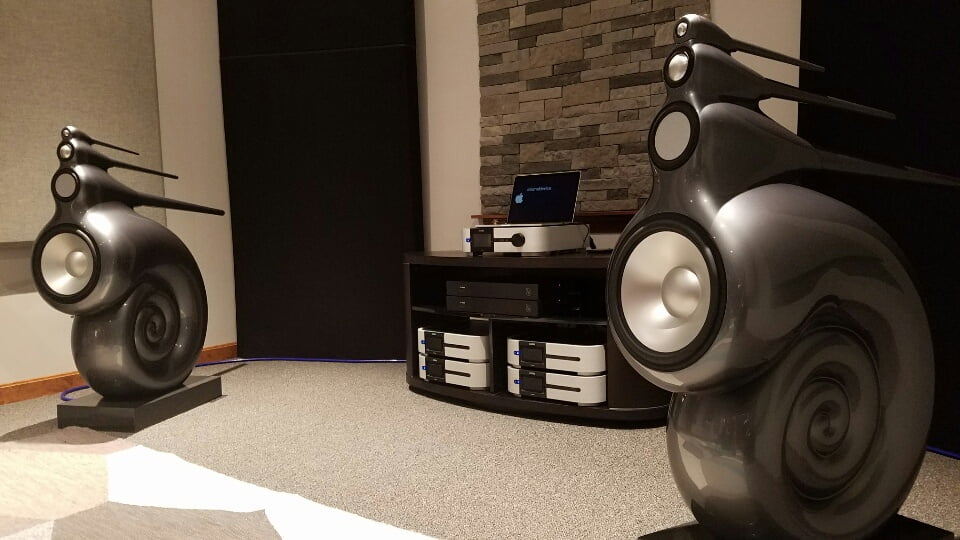 Your patio is an extension of your home's living space, especially this time of year!  It can also be a seasonal seating addition for your seaside restaurant.   At home and at work, we're taking to the outdoors more and more.  We're gathering around our fire pits and BBQ Grills, relaxing poolside and enjoying dinner at a favorite outdoor bistro.  Whether you're engaged in an intense Bocce Ball Tournament, sipping cocktails on your chaise, or just puttering in your garden, there's one thing that could really add to your enjoyment: music.
Choices in Outdoor Speakers
Outdoor audio comes in all shapes and sizes!  Where do you start? Here are some things to consider:
How would you like to use the system?  If you have an automated home control system, such as Crestron, your outdoor entertaining space can be added as an audio zone, allowing you to select any of the available sources (your audio library, streaming subscriptions, AV receiver or CD Player).  This integration also allows for signal interruption when the phone or doorbell rings – a convenience when throwing a party poolside!
Where would you like to have the music play?  Your outdoor area may consist of one or multiple zones.  You may find that you enjoy the ability to play music in some areas while broadcasting TV in others.  You may also enjoy having separate volume controls in each of those areas. Even if you elect not to do so right away, it is cost-effective and easier to wire for these future upgrades now.
Do you want to play the TV's audio through the outdoor speakers?  The system can be set up allowing you to select either a music source or audio from your outdoor LCD to play through a selected zone or zones.
How do you want to control it?  Your smart phone makes a familiar, convenient control device.  You can also choose from simple remotes or waterproof models, either independent to the system or integrated onto a whole house remote control.
What's the difference between indoor and outdoor speakers?
Quite a lot! Outdoor speakers are designed to endure the elements and to complement their environment.  They are durable, featuring marine-grade finishes and water-tight enclosures.  Speakers intended for interiors can't brave Vancouver's extremes of sun, sand, sea, snow, rain or even wind.  All-weather speakers also offer various installation locations. Speakers can be mounted under the eave or on a trellis, placed as an elegant patio planter, installed in your landscaping disguised as a spotlight or even buried underground as a subterranean subwoofer (James calls theirs an earthshaking experience!).
System Design meets "Interior" Design
Outdoor speakers are sleek and aesthetically designed, but the most important part of designing an outdoor audio system is proper speaker placement.  With no obstructions, sound travels easily from yard to yard.  In fact, a swimming pool or waterway can actually help to amplify it.  Speakers offer varying dispersion patterns that can be aimed and controlled within a specified area for smooth, consistent volume.  If you rely on having a pair mounted under the eave to cover a large area, the volume close to the source may be uncomfortably loud, while those at the edge of the patio can barely hear it.  Or, while you may be listening at a comfortable level at your BBQ Grill, your neighbors may be subject to a rock concert.  This is where a few well-placed landscape speakers would serve well, allowing for background level audio to play evenly throughout your space.
At the core
Control of the system requires connectivity.  You'll want to make sure your Wi-Fi is reliable and accessible. This may mean setting up a separate network (think about the conveniences of a guest network) or at least ensuring adequate antenna coverage for a strong signal throughout the space.
Years of enjoyment
Your outdoor audio system will provide years of entertainment and enjoyment.  While it will endure everything Mother Nature and the Pacific has to throw at it, you can rest assured knowing that your high quality, professionally installed system will be supported by the manufacturer warranty and your integration specialist.