Tag Archives:
acoustics
Custom panels absorb unwanted noise while complementing the room's decor
Listen! Did you hear that? If you're home in your media room, are you experiencing the audio as it was intended with clean, crisp speech and striking, directional sound effects? If you're seated in a cozy restaurant for an intimate, fine-dining experience, are you able to comfortably engage in conversation, or is the space humming with deafening chatter and clanking plates? Sound is a critical factor in how we experience a space, yet it is often completely overlooked in the room's design.
Laughter and lively conversation create a fun, atmosphere but, if the space is designed with only hard, reflective surfaces, the noise level in the room quickly escalates, reaching an uncomfortable level. In fact, according to a ZAGAT survey, when restaurant-goers were asked what irritated them most about dining out, 25% responded "noise", a staggering percentage coming in second behind only "service". A survey by the Action on Hearing Loss found corroborating results; 91% of respondents said that they would not return to a venue where noise levels were too high.
Background music and normal speaking levels are desirable sounds, but noises that bounce off the high ceilings and hard surfaces need to be controlled. That's the job of acoustical treatment, a thoughtfully engineered and aesthetically designed system of ceiling, wall and floor treatments to absorb unwanted noise and improve sound.
Sound & Surfaces
A sound wave will bounce around a room, reflecting off surfaces until it hits an object that either diffuses or absorbs it. Made of sound-absorbing material like foam or fiberglass, sound absorption products are intended to absorb unwanted noise, such as echo, within a space. Acoustic panels, tiles, ceiling clouds, & ceiling baffles are all sound absorption products that are designed to dampen sound in a properly treated space. An acoustical analysis will determine the treatments required to improve the room's acoustical properties. Once determined, the design choices are endless with custom fabrics, materials, shapes and placement options that will complement the architecture and décor.
Comforts of home
Uncomfortable noise & distractions aren't limited to public places. With the trend of many people choosing to work from home, a focus has shifted to controlling sound levels not just in our home theaters, but throughout our homes. Not surprisingly, many newly constructed homes and multi-unit buildings now have noise blocking requirements. For homes that do not offer these initial treatments however, noise control can be combatted with carpeting, area rugs or floating hardwoods, luxurious draperies, plush upholstered furnishings, and, of course, elegant acoustic panels. Panels created for the home can mimic art, featuring works from a favorite artist or perhaps your favorite movie, musician or vacation destination. To open a space, panels can even create faux windows with sceneries and exquisite skylines.
What do you hear?
So, listen. Are you able to have a conversation with the clerk behind the service desk or with your waiter, without shouting? Can you conduct a comfortable video conferencing call from your office without raising your voice above the office chatter and HVAC? Sound is an essential element in the overall experience of a space and the treatments to overcome unwanted noise are extensive and elegant. Are you ready to have a "conversation" about how to address the acoustics in your spaces? Call us today – we're "listening"!
Additional Resources:
Rules for Placement of Acoustic Panels in a Theater Room: Technology in Education, Mark Valenti
10 buildings with extraordinary acoustics: Where to find a sonic surprise, The Spaces
Eating Out Loud: Why Restaurants are Getting Noisier, New Statesmen,Caroline Crampton
Soundproofing, ExplainThatStuff, Chris Woodford
Introduction to Acoustic Treatment, Home toys, Ethan Winer
Hear the Music. Really Hear it.  "I've listened to that song a thousand times and I'm hearing things I've never heard before."  That's the definition of your perfect Listening Room. While our world of listening has transformed dramatically over the last decade, all that matters is what you want to hear. The science and mathematics are real, as are the hi-end audio components. The rest is subjective.
The Speakers
Loudspeakers convert electrical impulses into sound. Depending on the dimensions of the room, as well as the listener's preferences, a well-designed audio system will transmit the desired range of frequencies (note that it may not be the widest range). Some audiophiles swear by 2-channel, with speakers positioned a calculated distance apart and at an optimal distance from the listener, facing the listener for a 2 dimensional listening experience.  The 2-channel system creates a virtual sound stage.  When professionally set-up, the listener is able to close his/her eyes and actually pick out exactly where, on the "stage", that musician was positioned. Unlike viewing a movie, there is no need for various sounds (voice, music, effects) to "follow" around the room, so rear speakers or a full surround sound system are not desired. In fact, some find it unnatural for instruments to be heard behind them. The perfect speaker system, in the perfect acoustically treated room, will reproduce the sound as authentically as possible. However, while science can measure all facets of sound, the listening experience is quite personal and our passion for particular brands is rather cult-like. We, of course, have our favorites too.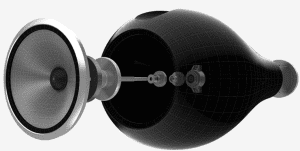 An industry icon with a prestigious reputation built over 5 decades, Bowers & Wilkins touts its 800 Diamond Series as "the industry standard for accurate sound." We couldn't agree more.  The Diamond Dome tweeters of the iconic 802 D3 deliver natural treble while its Continuum cone and Aerofil cone provide amazing, subwoofer-free, midrange and bass, respectively.  Frequently the subject of audiophile reviews, the B&W Diamond Series does not disappoint. The D3 was unveiled last summer in Boston. Here's a review featured in Audioholics that details the author's experience of both the D3 as well as B&W's flagship speaker, the $60k per pair Nautilus. The line's CM Series, with its minimalist exterior and "tweeter on top" technology, also offers incredible audio performance. It is designed with the highest quality components and a "less is more" philosophy that ensures "nothing gets between you and the sound the artist intended you to hear."
The Construction
Equally as important to the components is the environment.  The ideal listening room will be free of ambient noise and other distractions. Acoustic treatments will absorb the hum of the HVAC and rattling water pipes.  The space will be free of harsh lighting, filled only with soft, relaxing light and there will be no capacity for video. This combination of exceptional components producing nearly flawless sound and the distraction-free environment, will allow the listener to hear subtle artifacts in the music that were previously unnoticed.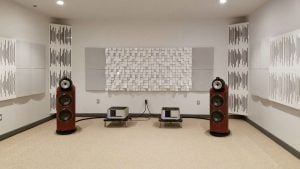 The room's furnishings and physical dimensions are essential to the experience.  The proper room requires some soft surfaces – some will say that even a glass coffee table or leather couch is not suitable as they will reflect sound, opting instead for fabric seating. The height of the seat back is recommended to be below the listener's ear level, allowing unobstructed hearing without reflection. The single seat should be positioned in what will be known as the "sweet spot" or "money seat," as determined by the engineer's calculations. The calculations for the room itself are also of great importance.  To determine an acoustically accurate room for optimal listening, audio engineers employ the Bonello Graph, a method of calculating the ideal room ratio of dimension and volume, explained here by AcousticFields.com.  In the audiophile world, this is also referred to as the acoustic amoeba.
Are you an audiophile or serious music lover that wants to experience all that the music has to offer?  Hearing is believing! Let's set up an in-home consultation and schedule a demo – you can even bring your own music. And stay-tuned. Part 2 will cover amplification, calibration, connectivity and content. Did you know Neil Young was launching a high-quality music streaming service?
Additional Resources:
Ideal Room Size Dimensions and Ratios for Audiophile Listening
Ideal Room Size Ratios & How To Apply The Bonello Graph