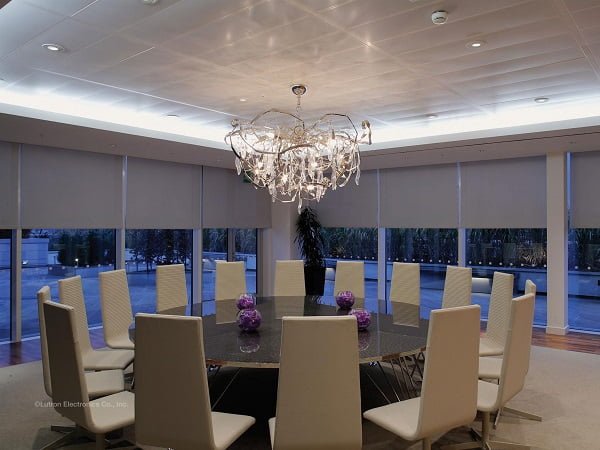 The choices in color, weave and design of window shades are anything but beige!
We've been touting the benefits of automated window shades for years. They're an elegant choice in window treatment and offer a variety of unique shading solutions across your home. They save energy. They filter glaring sunlight, adding comfort while protecting your furniture from fading. They can be programmed to simulate that your home is occupied, acting as a deterrent for would-be burglars. And the list goes on. But, as extensive as their features and attributes, are their exquisite array of color and fabric choices.
Motorized window coverings can provide anywhere from minimal coverage to complete blackout. If you're in need of multiple shading solutions, such as a sunny living room that transitions into a cozy, dark TV viewing area, dual roller systems are available, providing an option between the two. The level of sheerness is referred to as the "openness factor", a ratio of the open space in the fabric. The denser the weave, the higher the light filtering properties. Sheer shades are typically measured in the 1% to 10% range while a blackout shade is at 100% for total blocking of light. A sheer shade filters glare while still allowing clear visibility to the outside. A translucent or dim-out fabric, on the other hand, can range from a low openness factor up to 95% but creates privacy by limiting the amount of detail seen through the weave. Blackout shades block all light and are perfect for home theaters and bedrooms.
The weave, or pattern is also a consideration for both design detail and design requirements. Roller fabrics are commonly offered in basketweave, twill and jacquard weaves, each with a unique, directional pattern and manufactured in limited widths. If you have an expansive window opening, the fabric can be turned horizontally and pieced together. This is referred to as railroading. Factoring weight and pattern, certain fabrics lend themselves better to achieving these widths. We'll guide you through it.
One of the nicest features about custom motorized shades is that they can be programmed to stop at select intervals, lowering and raising them throughout the day. Not only does this allow you to take advantage of capturing or filtering daylight, but aesthetically, it enables the shades to rest at desired design features such as mullions or chair rails.
Customization doesn't stop there. Your shades can be programmed in harmony with your lights, music and more to create custom "scenes". "Good Morning" may lower the shades 50% and brightly light the kitchen while "Good Night" closes the shades and softly illuminates your nighttime paths. For specialized windows, wirelessly controlled shades are the ideal custom solution. Skylights, French doors and dramatic, impossible-to-reach, feature windows all benefit from the energy savings and privacy that motorized shades provide. And color? Check out the available color match solutions that allow you to pinpoint your pantone color or match the exact shade of a favored object!
The selections and solutions are endless, so how do you determine the right openness factor, weave, color and control? Let's set up an in-home consultation. If you're working with an interior design professional, we're happy to work together to design window coverings that will complement your décor, add value to your home and weave elegance into your automated lifestyle.
Resources:
Lutron's extensive wireless solutions
Lutron Fabric Collections Inspiration gallery
Lutron Roller Shade Fabrics
Crestron Shading Solutions and Custom Color Match