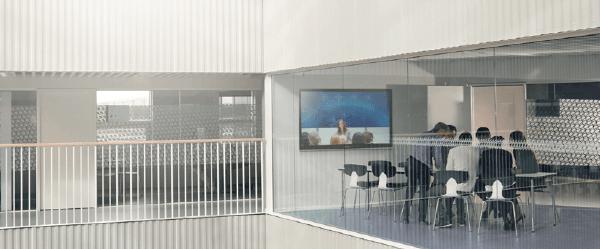 Noise is a critical factor affecting room design but, unlike lighting or climate control, it is often overlooked. Effective control of environmental noises and distracting conversations can significantly increase worker productivity while creating privacy from common areas.  These noise control methods can take different form and accomplish different types of noise control. One such method, sound masking, is an effective way to eliminate the distractions, as well as privacy concerns, of overheard conversations but how it works, is often misunderstood.
The ABCs of Acoustics
The ABC's of acoustic design, as architects refer to them, are a variety of elements that can be employed to address noise control and speech privacy. These include solutions that absorb, block, or cover sound. In any given space, the right solution may include involve one method or a hybrid off two or all three. Sound masking systems cover noise and fit into the C category.
We've learned that acoustic treatments absorb noise.  Sound masking, on the other hand, is the addition of sound.  It is an ambient sound, created by digital generators,  that are specifically engineered to the frequency of human speech to target conversational noise rendering it unintelligible and therefore, less distracting. Sound masking does not eliminate all noise or cancel sound in an environment; it simply reduces how far conversations can be heard and clearly understood.
Sound Masking: What it is Not!
Sound masking is often referred to as "white noise" but its frequency varies significantly. Unlike white noise's irritating static, sound masking is engineered to match the comfortable frequency range of the human voice. When designed and installed properly, the "whoosh" of sound masking will fade into the background of a workplace while simultaneously making speech more difficult to hear and, more importantly, to clearly understand.
Sound Masking Success
Implementation of a sound masking system will be far more successful if activated when workers are not present. It's simple, human nature to hear something when it's first flipped on and be overly aware of it. Instead, if your staff were to walk in while it's already on, they would be less likely to notice it, if they noticed it at all. Ongoing, systems can be controlled manually or automatically, set to activate and deactivate based on staff scheduling.
Auto Correct
If an environment has widely varying noise levels, an "active volume control" can be added to improve effectiveness. Special microphones (emitters) would be installed to measure the conversational speech levels and adjust the system's output as the noise levels rise and fall. With the system staying in-sync with the environmental noise, the occupants wouldn't detect a change.
Often a complement to sound masking, acoustical treatments provide barriers and sound absorption, lessening overall noise levels and reducing reverberation from hard surfaces. What's the right solution for your space? Call us to request a consultation today.