Tag Archives:
wine cellar
Smart home technology might make you think of temperature, automated lighting and shade control, voice-control entertainment and security. What you might not realize is that this technology can extend into your wine collection.
Gone are the days of having your wine unprotected and at the wrong temperature or worrying about a power outage at home while trekking across Europe. There are numerous options for any level of connoisseur and any size collection. New technology from the standard cooler to a fully-equipped cellar, complete with the accessibility and organization at your fingertips thanks to state-of-the-art smart home technology and apps, makes this investment an excellent one for your home.
These systems have many benefits, the most important being their ability to connect with your existing home automation technology. Motorized shades, lighting and audio aren't just for your living areas anymore – you can utilize your smart home tech to play your favorite music, control the temperature, adjust the lighting and protect your cellar from unauthorized guests. For those with serious collections, many systems offer monitoring of your inventory, so you know what bottle has been accessed, by whom and when.
High-tech options like the Elertus Wine Protection System or the IWG Cellar Cerveau offer your collection protection from humidity, temperature changes and power outages. Systems like the Cellar Cerveau and eSommelier come equipped with label recognition software and RFID label technology to help you track your inventory – down to where the bottle is in your cellar and what your collection is worth. What's more, some systems come pre-configured with an expansive listing of data like wine types, grape varieties and tasting notes, while others can also offer suggestions for new additions.
Whether you're just starting your collection or have been an oenophile for decades, consider the value of automating your wine cellar. La Scala has been privileged to work with some of Vancouver's finest designers to integrate these features into our clients' cellars and would welcome the opportunity to work with you and your design team. Need a little inspiration?  Check out these five luxury homes featuring next-level cellars with automated controls. Can't wait? Give us a call and let's get started!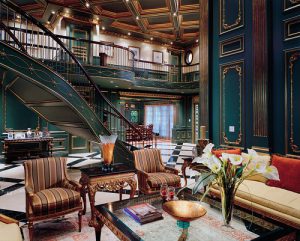 Gone are the days of home automation and luxury being two separate conversations and design concepts. More and more, luxury living is embracing home automation in order to provide optimal comfort solutions.
Imagine walking into your home, and the first thing your eye is drawn to is the artwork in your foyer – highlighted using experienced lighting design. Entertain guests with your high-tech wine cellar, complete with automated climate control and inventory management system. Even more, control the quality of the air inside your home.
And the options don't end on the inside. Control luxury water features, audio and video entertainment systems, even operate a summer kitchen by the pool.
Home automation technology provides the epitome of luxury when combined with your own design style. The right technology will allow you to personalize your system to suit your lifestyle, giving you control of everything in your home – from the window shades, to the temperature and air quality, to your lights and even your security system. Advances in this technology provide you easy access to your entire home from your phone or tablet, and some systems can even operate via voice-activation.
With today's trends in home automation luxury, nothing is off-limits. Whether you want a top-of-the-line smart kitchen, an all-encompassing security system, or an over-the-top outdoor movie theatre – there is a right mix of home automation technology for you that can be designed to suit your individual home design style.