Tag Archives:
Technologist
Working with a pro ensures the best design, reliability, performance and service for your home technology systems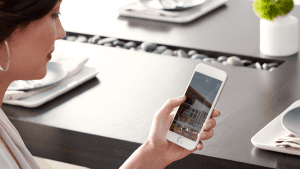 With the myriad innovative smart home technology devices on the market today, how do you know which is best…and which is the best for you? Smart locks and security devices are wonderful to have, but they're much more valuable if they're integrated into your home's control system. Lighting control, motorized window shades and automated garage control are not only convenient, but also a great way to mimic that someone is home while you're away…particularly if you can access them remotely. So, of all the must-have technologies out there, how do you determine the right solution for you – for now, for tomorrow and beyond?
Tech "Talk", tools and know-how
Your devices and systems need to talk to one another, and we speak their language. As a CEDIA Professional and Technologist, we have an extensive depth and breadth of knowledge in home technologies and stay current on emerging trends. We know what's available and, based on your needs and desires, can design a system that will work seamlessly together and be easily controlled. We'll make sure you've got the infrastructure to support it (all those connected devices will be competing for bandwidth!) and that we've taken future demands into consideration.
Connected, compatible & scalable
What makes a smart home so smart? It's a system that works together. It's an orchestration of elegant, convenient features that control music and lighting throughout your home, secure your entryways, control your climate, access your water features and pool pump, watch over your wine collection, close your shades and light up the fireplace. It's a scalable system that anticipates growth and an increasing number of devices on your internet of things. It's a maintenance plan that offers peace of mind. It's an everyday luxury that puts safety, comfort and entertainment at your fingertips.
Leave the worry and wondering up to us. Give us a call and let's work together to discover the right solution for you.
An interesting shift is occurring. In this fast-paced race to digitalization, the role of the technology integrator has, once again, transformed. As more devices, features, systems, services, apps and appliances exist on the network and integrate or "talk" to one another, the technology integrator is transpiring as the single-source service provider for all things "technology." Hence, 2017 has witnessed the residential systems technology integrator, a low-voltage provider specializing in everything from network infrastructure, communications, security, energy management and HVAC to elegant lighting and shade control, home entertainment and fully integrated control systems, emerge as the "Technologist."
The Art of Technology
As a Technologist, we design, build, program and service our clients' connected homes, ensuring seamless compatibility of systems across the platforms for an easy and intuitive user experience. We've been positioning our clients for this over the past several years noting that a pantry full of ingredients does not make a master chef. It's the art, the science, of pulling those ingredients together.
At LaScala, we make your home comfortable, safe, productive, convenient, entertaining and beautiful. We partner with you, exploring your wants and needs, developing a technology strategy that will grow with you and your family. We stay current on emerging technologies and inform you of your myriad choices. We stand by you through the years, offering valuable service coverage to keep your systems running efficiently, effectively, trouble and worry-free. We make life simpler.
Our extensive training and years of experience in this evolving field have allowed us to foster valuable partnerships with design professionals and adjacent trades. From inception to implementation, we work with an outstanding team of architects, interior designers, builders, landscape architects, plumbers and electricians, managing all aspects of your home project. We communicate the aesthetic and technical requirements of your connected home and make sure provisions are made for future needs. From the simple to the sophisticated, we strive to be your go-to resource for all things technology, your trusted technology partner, the Technologist.