Tag Archives:
smarthome
Smart Home Basics: Locks 101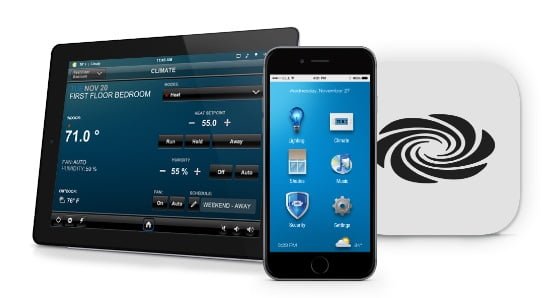 We've all been there – you're running late to work and you realize you never locked the door or closed the garage and you're already at the office. If you are one of these people, a smart lock or garage might be for you!
With these smart security features, you'll no longer need to rely solely on your existing monitoring system. By pairing your monitoring system with a smart lock or smart garage, you're gaining 24/7 remote access to your home and who's allowed in it – all from your smartphone or tablet. With features like keyless entry, remote locking and alert options, leaving a key under the mat is no longer necessary.
Smart locks and apps like Alarm.com's have the ability to send you alerts whenever someone enters your home – and you will always know who it is, thanks to unique security codes you can set for each user. And good news for those forgetful folks: these apps can also send reminders whenever you forget to lock the door or close the garage, thanks to GPS monitoring on your phone. Thankfully, you'll always have the ability to remotely lock and unlock your door.
Want more? Considering a smart lock with a video doorbell, or a camera that records each time your front door is opened. And if you're one of the 70 percent of people who uses their garage as their main point-of-entry, some apps also feature alerts when movement is tracked by image sensors in your garage. And with a top-notch camera system, such as Luma Surveillance, you can even access remote playback and view live feed via their app.
Regardless of which smart home security technology you think is right for you, make sure you pair it with a professionally-monitored security system.  LaScala can help you pair features with your current or desired home automation system. For monitoring, we partner with Provident Security to keep your home secure. Give us a call and let's get started. Then, you'll be able to rest assured that your family (and belongings) are safe.
Additional Resources: Crestron
Incorporating smart technology into your favorite rooms creates aesthetics and luxury in any home.
Style and comfort are crucial to any home's design; and implementing smart technologies into your design plan can provide a custom solution that gives you full control and accessibility of your favorite spaces. Equipping key rooms in your home with technology can provide endless comfort, while still complementing your individual style.
Keeping your style in mind is key. Seamless built-in panels, hidden television units and in-ceiling speakers are just a few ways you can customize your audio, video and lighting experience, without compromising your rooms' style.
With the proper technology in your design plan, "you can have full control of the technology in your room, and around your house for that matter, from the convenience of your bed." For instance, by discreetly enclosing your television in a beautiful cabinet that matches your décor and in-wall speakers covered by your wallpaper or custom paint, bulky and aesthetically unpleasant equipment are hidden.
But this trend expands beyond just your bedroom. Imagine catching your favorite show while you're in the shower, or checking up on your home's surveillance video while you're cooking dinner. More and more, homeowners are deciding to add technology in their bathrooms and kitchens – ensuring continuous accessibility at an arm's length.
Finally, don't forget your favorite outdoor spaces! Integrated lighting, video and audio technology are just as important in your indoor living spaces as they are the outside. Mood-lighting and discreet surround sound speakers can provide the same level of comfort and style in any livable space.
Let's get started on your wish list.
Resist!  It's a sunny afternoon and you find yourself in your favorite home improvement store.  You stroll down the electrical aisle in search of a replacement wall plate and, BAM, there it is, DIY lighting control.  Dimmers, outdoor lighting…Oh, just imagine…"Honey, did you turn off the basement lights? No? Ok [picks up remote], I got it."  Bliss. Sigh. You round the corner and on the end-cap display, spotlighted as if the clouds have parted and sopranos are welcoming a new dawn….motorized window shades!  With a remote! Simple, elegant…You've been dreaming about blackouts for the Master Bedroom and Home Theater…maybe a lighter weave for the family room to protect the furniture, ease glare on the TV and block the heat…sounds perfect but….not so fast!
While DIY has its place, we caution you when it comes to automated lighting control and motorized window shades.  We've recently experienced many homeowners calling to ask us to re-program their lighting and window treatments, integrating their weekend project into their system, only to find out that what they've installed is a single-room solution.  For us, the beauty of whole-home lighting and shade is just that – a whole-house integrated system.  Pre-set configurations; all-on/all-off, entertain, away, Good Morning!, Goodnight! modes– Portrait lights on while the shades are down, can lights on with shades at 50%….elegance, control and options galore!
So, be tempted by that jaw-dropping display…be inspired…but before placing anything in your cart, please check with us to learn your options.  We want to be sure you're happy with your investment. Put the drill down and pick up the phone. We got this!
So, what is a SMART home or technology-enabled workplace?  And what makes it so smart to have?  It seems to be a lot of things, and for a variety of reasons.  To some, it's an all-in-one remote (and we mean the whole house) control.  To others, it's a mobile security system.  It's a convenience, it adds to your home's resale value, it supports energy efficiency, and the list goes on.  But what's the common denominator?  What makes the home automation market worth a projected 78.27 billion dollar industry by 2022? It's simple; it simplifies your life.  Granted, it's elegant, it's a solid investment, it enables you to be remote, it's all those things, but what it really does is make life easier.  And isn't that nice to come home to?
So, if you were to design your SmartHome or automated workplace, what features would you want?  Here's some fuel for thought:
What's important to you? What features would simplify your lifestyle or make your place of business more efficient and secure?
Enhanced security solutions
Access and control to lighting, motorized shades and security features from anywhere
Update the look of your home or business
Upgrade for resale purposes or to attract/retain today's tech-savvy workforce
Incorporate energy efficiency
Improve the functionality
What would you want to control?
Comfort (HVAC/heating and cooling)
Home theater/entertainment or conference room control
Lighting, window treatments
Security and monitoring
Distributed music with integrated intercom and doorbell
Communications
Now consider compatibility.   Think about your favorite services such as Pandora, napster, Deezer …and your favorite tech- friendly products like Sonos, echo, Lutron – all can be integrated onto one platform.
So what's the trick to get all these devices and services to work together?  That part you leave to the professionals.  No stress, remember?  Technology is quickly evolving and today's home automation integrators stay on top of these cutting-edge technologies.  They have continuous training and proper certifications to get your disparate pieces to blend in unison.  Music to your ears?  We think so.
Now, don't you feel smart?