Tag Archives:
Outdoor audio
Vancouver summers are meant to be enjoyed… outside! Whether you're hosting a dinner party poolside, sipping cocktails beneath the pergola, or catching Sunday's game at your outdoor kitchen, a well-placed TV is a great source of entertainment. But extreme temperatures, moisture, dust and even unwelcome insects, take a toll on the display.  This is why it's important to use a unit specifically designed to stand up to what British Columbia can dish out.
­­­­­­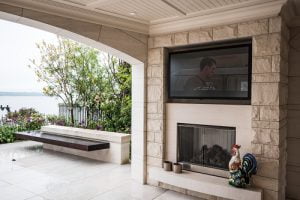 Weatherproof TVs hit the market a few years ago. While they were sealed from the elements and offered a brighter screen to compensate for sunny conditions, they were somewhat bulky. To overcome the unstylish appearance, we crafted custom enclosures which limited installation options. Well, have things changed! Outdoor LEDs today are sleek and provide optimal image quality that overcomes extreme brightness as well as low light levels. Anti-glare and anti-reflective features also improve the viewing experience. Not only do these weatherproof TVs look sensational, but they're built to withstand our extreme temperatures, resist moisture and seal out dust, dirt and those pesky insects that could compromise the life of an ordinary indoor unit and void its warranty.
TVs built specifically for outdoor use also offer durability and safety. Unlike indoor units that could pose a greater risk of electrical shock or fire hazard if used outdoors, outdoor TVs are built tough with durable exteriors and tempered safety glass for extended enjoyment, safety and reliability.
Weatherproof TVs are not only perfect for covered porches and sunny patios, but for marine use as well. They can take the punishment of the waterways and, when not in use, can be covered with an attractive dust cover made specifically to keep them clean.
Complementing your weatherproof TV with impressive outdoor audio also offers a variety of choices. Like purpose-built outdoor-rated LEDs, speakers and subwoofers created for outdoor use feature weather-resistant materials. Their cones are made of specialized materials and their electronic components are sealed from moisture, but their sound performance is uncompromised. They are designed for even sound dispersion across expansive areas, some even providing full 360° coverage. And the design choices are endless with speakers created inside elegant planters, made to resemble natural stones or sleek landscape spotlights. Subterranean subwoofers are available for hidden underground installations. Outdoor-rated soundbars are also available and provide a designer-friendly solution. And many weather-resistant accessories are available such as wireless gear, seals for cable cover doors and remote controls.
Ready to make some weather-friendly updates to your outdoor living space? Call La Scala today to request a complimentary consultation. We'd love to show you the latest in outdoor living solutions.
Company's Coming to Town!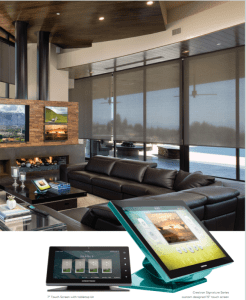 The holidays are around the corner! Soon our homes will be filled with festive decorations, mouthwatering scents wafting from the kitchen and guests to entertain! Whether you've been thinking about sprucing things up before your guests arrive or simply want to make some comfortable home improvements that will add to your holiday merriment, here are some things you may wish to consider.
Home for the Holidays
Nothing says "Welcome" quite like lighting design. From the moment your guests turn the corner, they'll see your beautifully lit landscape and inviting walkway.  Highlighted artwork and the soft glow of a chandelier in your foyer make a stunning first impression. Programmed lighting scenes can transform the mood at the touch of a button (or a simple "ask" of your voice control). An "Entertain" setting may turn your kitchen into a bustling center of activity full of food prep and laughter while lowering the downlights, sconces and chandelier in the dining room, setting the stage for the elegant evening meal. Following dinner the lights come back up to your "Clean-up" setting and your favorite holiday playlist ques up, drawing everyone to gather around the fireplace (also integrated into your Crestron home automation system).
On milder evenings you may wish to entertain on your covered patio. Lighting scenes showcase architectural features, planters and fountains for added drama while highlighting uneven walking surfaces and stairs for comfort and safety.  You and your guests can enjoy cozying up with your quilts around the firepit to watch your favorite holiday classics on a weatherproof TV or outdoor projection screen.
If the weather outside is Vancouver "frightful", bring the party indoors into an updated media room or dedicated home theater. We'll help you plan the perfect space with plenty of plush custom cinema seating for everyone!
Be the Envy of Your Neighbors
If you're one who wants to share your joy and seek to become a "destination" (or the next viral video) by putting on an outdoor display that can be seen from space, you'll need a sound system that's worthy of the task. Those synchronized music and lighting displays are sophisticated but, if you have an integrated home automation system, we can get you in control and in "sync"!
While the neighbors are out gawking at the lights and enjoying the orchestration, unless you have an infamous Leg Lamp prominently displayed in your front window you may want to add some beautiful motorized window shades.  Automated shades can be integrated with your lighting scenes and come in an elegant array of weaves, styles and colors. They are the perfect solution for hard to reach floor-to-ceiling windows in voluminous rooms and can be on separate settings. They're also great for blacking out light in areas for TV viewing and are available for custom installations over skylights, stairway/foyer accent windows, etc. Check out this beautiful guide outlining the Top 10 Reasons to Add Crestron Lighting & Shades to Your Home for some great design ideas.
Like a Warm Cup of Cocoa
While preparing your guest rooms, imagine offering them the luxury of automation. Easy-to-read and use touch panels, keypads and hand-held remotes that control lighting, fans, fireplaces and more in their room add elegance and enjoyment to their stay.
All Snug in their Beds
While we're off dreaming of sugar plums, others are up to Grinch-like behavior scheming to steal the joy from our celebration. Yes, sadly, according to the FBI, nearly 400,000 homes are burglarized during November and December each year. Burglars are opportunists and will move to an easier score when a few simple deterrents are in place. Strong, automated door locks will keep them out while allowing you the ability to "buzz" your family and friends in if you're caught in holiday traffic. And nothing says "we're home" like well-timed automated indoor and exterior lighting. And your lighting control can be integrated with your home security system for even greater peace of mind.
So give us a call and let us help you prepare for the holidays! We'll put together the perfect system for you. All you need to do is create your holiday playlist, address your invitations and start shopping! Shopping? Oh yeah, we've got you covered there too! Stay tuned for our gift giving guide. We'll help you find something for every tech-enthusiast on your list!
Need more Décor ideas? Visit Vancouver Christmas Market
Entertaining ideas outside of your home: Top Things to do in Vancouver at Christmas
Lutron Lighting Design – Inspirational Design Gallery
Incorporating smart technology into your favorite rooms creates aesthetics and luxury in any home.
Style and comfort are crucial to any home's design; and implementing smart technologies into your design plan can provide a custom solution that gives you full control and accessibility of your favorite spaces. Equipping key rooms in your home with technology can provide endless comfort, while still complementing your individual style.
Keeping your style in mind is key. Seamless built-in panels, hidden television units and in-ceiling speakers are just a few ways you can customize your audio, video and lighting experience, without compromising your rooms' style.
With the proper technology in your design plan, "you can have full control of the technology in your room, and around your house for that matter, from the convenience of your bed." For instance, by discreetly enclosing your television in a beautiful cabinet that matches your décor and in-wall speakers covered by your wallpaper or custom paint, bulky and aesthetically unpleasant equipment are hidden.
But this trend expands beyond just your bedroom. Imagine catching your favorite show while you're in the shower, or checking up on your home's surveillance video while you're cooking dinner. More and more, homeowners are deciding to add technology in their bathrooms and kitchens – ensuring continuous accessibility at an arm's length.
Finally, don't forget your favorite outdoor spaces! Integrated lighting, video and audio technology are just as important in your indoor living spaces as they are the outside. Mood-lighting and discreet surround sound speakers can provide the same level of comfort and style in any livable space.
Let's get started on your wish list.
Your patio is an extension of your home's living space, especially this time of year!  It can also be a seasonal seating addition for your seaside restaurant.   At home and at work, we're taking to the outdoors more and more.  We're gathering around our fire pits and BBQ Grills, relaxing poolside and enjoying dinner at a favorite outdoor bistro.  Whether you're engaged in an intense Bocce Ball Tournament, sipping cocktails on your chaise, or just puttering in your garden, there's one thing that could really add to your enjoyment: music.
Choices in Outdoor Speakers
Outdoor audio comes in all shapes and sizes!  Where do you start? Here are some things to consider:
How would you like to use the system?  If you have an automated home control system, such as Crestron, your outdoor entertaining space can be added as an audio zone, allowing you to select any of the available sources (your audio library, streaming subscriptions, AV receiver or CD Player).  This integration also allows for signal interruption when the phone or doorbell rings – a convenience when throwing a party poolside!
Where would you like to have the music play?  Your outdoor area may consist of one or multiple zones.  You may find that you enjoy the ability to play music in some areas while broadcasting TV in others.  You may also enjoy having separate volume controls in each of those areas. Even if you elect not to do so right away, it is cost-effective and easier to wire for these future upgrades now.
Do you want to play the TV's audio through the outdoor speakers?  The system can be set up allowing you to select either a music source or audio from your outdoor LCD to play through a selected zone or zones.
How do you want to control it?  Your smart phone makes a familiar, convenient control device.  You can also choose from simple remotes or waterproof models, either independent to the system or integrated onto a whole house remote control.
What's the difference between indoor and outdoor speakers?
Quite a lot! Outdoor speakers are designed to endure the elements and to complement their environment.  They are durable, featuring marine-grade finishes and water-tight enclosures.  Speakers intended for interiors can't brave Vancouver's extremes of sun, sand, sea, snow, rain or even wind.  All-weather speakers also offer various installation locations. Speakers can be mounted under the eave or on a trellis, placed as an elegant patio planter, installed in your landscaping disguised as a spotlight or even buried underground as a subterranean subwoofer (James calls theirs an earthshaking experience!).
System Design meets "Interior" Design
Outdoor speakers are sleek and aesthetically designed, but the most important part of designing an outdoor audio system is proper speaker placement.  With no obstructions, sound travels easily from yard to yard.  In fact, a swimming pool or waterway can actually help to amplify it.  Speakers offer varying dispersion patterns that can be aimed and controlled within a specified area for smooth, consistent volume.  If you rely on having a pair mounted under the eave to cover a large area, the volume close to the source may be uncomfortably loud, while those at the edge of the patio can barely hear it.  Or, while you may be listening at a comfortable level at your BBQ Grill, your neighbors may be subject to a rock concert.  This is where a few well-placed landscape speakers would serve well, allowing for background level audio to play evenly throughout your space.
At the core
Control of the system requires connectivity.  You'll want to make sure your Wi-Fi is reliable and accessible. This may mean setting up a separate network (think about the conveniences of a guest network) or at least ensuring adequate antenna coverage for a strong signal throughout the space.
Years of enjoyment
Your outdoor audio system will provide years of entertainment and enjoyment.  While it will endure everything Mother Nature and the Pacific has to throw at it, you can rest assured knowing that your high quality, professionally installed system will be supported by the manufacturer warranty and your integration specialist.
Additional Resources:
https://www.electronichouse.com/home-theater/planning-your-outdoor-audio-and-video-system/
https://www.newhomesource.com/resourcecenter/articles/bring-it-outdoors-the-latest-in-sound-and-tv-for-your-deck-yard-or-patio
http://www.cepro.com/article/6_tips_for_tackling_outdoor_audio
http://www.bowers-wilkins.com/Speakers/Installation-Speakers/Outdoor-Marine/Outdoor.html
http://www.triadspeakers.com/product-tag/outdoor/