Tag Archives:
audiophile
The music you play is as important as what you play it on and what you play it through. The truest, cleanest, highest bit rate content will yield the best sound under all the right conditions (connections, components, calibrations). Analog may be the "original", but access and format are a challenge. So, how can you enjoy truly lossless audio?
What's Missing?
We want our music and we want it now…but are we willing to compromise on quality? That answer seems to be yes, but to a point.  While earbuds and a smartphone can produce rather impressive sound, we understand that digital content is compressed and that we're missing out on some of the depth (think standard definition vs. 4K). Portions of the music that have been deemed indiscernible to the human ear have been carved out.  This may be acceptable for casual on-the-go listening or while at the gym, but not when you want to really experience music. But that's about to change.
On a mission to make available top-quality digital sound at a reasonable cost, rocker Neil Young is preparing to launch a high-quality streaming music service, Xstream. Xstream is based on a technology developed by Orastream and will be an adaptive streaming service that changes with available bandwidth. His feeling is that the higher bit rate will provide a more authentic analog sound vs. the more "squared-off" (more compressed) bit-rate which loses, in some ears, the essence of the music. While the technology behind the service is amazing in that it is capable of complete high resolution playback, Young himself expressed doubts that smartphone chips could adequately decipher the high-quality files.
Making a splash in the streaming service is Tidal.  Tidal is the first subscription streaming service to offer High Fidelity music along with HD music videos. Their lossless audio will stream on Apple devices and Android systems, as well as on a PC or when integrated in a wide range of hi-fi network players. To really appreciate the difference, they offer an audible demonstration of Lossless 1411 kbps (kilobits per second) music, as compared to the Vorbis 320 kbps of Spotify's desktop version and iTunes's AAC 256 kbps*.
Popular streaming service Spotify is reportedly testing the market for lossless audio too.  The service tier referred to as Spotify Hi-Fi would be competively priced between $15-$20/mo. Great news for those who want to access a vast library of tunes on a quality sound system.
If you're one who enjoys hearing every note that every instrument plays which, until recently has meant analog, then these new streaming options are music to your ears. What you play it through (hi-end audio system) is another story, and one in which we at LaScala are eager to assist!
*As reported by Tidal
Additional References:
How to Build the Ideal Audiophile Listening Room
Bowers & Wilkins Blog: Digital Music – a Quick Guide to the Best Lossless files
Sony Music Goes Back to Vinyl Records
We talked about performance speakers and the importance of proper speaker placement in Part 1 of our Listening Room feature. We also covered the acoustic properties and critical dimensions of the room design. Now, let's dive into what drives the sound!
Key Components
The heart of your system driving sound to each channel is the amplifier.  Unlike your Home Theater's AV Receiver that houses an all-in-one pre-amp, amplifier and processor for surround sound, hi-end audio systems have dedicated amplifiers, often one per channel. A more sophisticated set-up will have 2-way or 3-way amps that support each speaker. A pre-amp serves as the input device. It will convert signals from all audio sources such as a tuner, turntable and streaming devices to the signal that the amp wants.
It's essential that the amplifier be matched to the specifications of the speaker to provide optimal output. LaScala can guide you through your choices and design to your listening preferences.  Our go-to is Classé, part of the B&W Group. Their line of components offers exquisite sound to complement any hi-end audio system. Check out this recent review of the Sigma 2200i integrated amplifier by Stereophile.
Connections
It is common knowledge that HDMI Cables are required to pass 4K and hi-end audio has similar requirements. Like video, quality cables are recommended for a solid, clean connection.  That doesn't necessarily mean the most expensive, just of good quality and appropriately sized for the given application. We can calculate the appropriate gauge cable that will deliver the necessary wattage to the speaker based on the distance. As for the connectors, gold are preferred over silver or other metallic. Locking connectors are a good choice for equipment that is seldom moved.
Having sufficient, clean power is paramount to the sound quality. Every AV system needs a name brand, purposely built, surge protector. Surge protection will remove artifacts from your power, filtering out spikes and dips. Insufficient power can make the amplifiers put out harmonics that will "color" the sound, creating unwanted distortion.
Commissioning
Once the system has been designed and the components selected, the next step is installation and commissioning. Measuring and testing the room's characteristics, reverb, etc., we'll "tune" the room to enable undistorted sound.   By adjusting equalization (EQ), gain structure and speaker placement, we target a flat frequency response.
Content in Controversy
We often hear that a turntable's needle against vinyl is the only way to listen to music. It can be argued that the harmonic distortion created introduces a mild alteration that is perceived by many as warmth. The pops and crackles the needle yields evoke a "vintage" sense that some find pleasing and quite authentic. However, according to Mark Slee of Facebook, "In terms of fidelity and accuracy of sonic reproduction, CDs outperform vinyl in significant ways. With that said, there are sonic artifacts and emotional attachments with vinyl that many find pleasing. This creates a preference for vinyl – which some would describe as better, but this is a subjective quality as measured by the ear of the beholder." With turntable sales up 16%, there's apparently some "old schoolers" out there that agree.
The higher the bit rate of the audio, the more accurate the sound. Analog is uncompressed and the format truest to form. Overly processed audio, on the other hand, can mask or cancel parts of the music, eliminating the ability to hear everything as it was mastered.
All things being equal, the more information a format can transmit, the better the sound produced. For the best listening experience, the sound transmitted should pass through quality cabling and components and be listened to in a space that is purposefully designed to capture every nuance. Are you ready to hear what you've been missing? Let our award-winning team at LaScala help design or retrofit your personal listening space and enjoy music as it was intended to be!
Additional Resources:
Is the sound on vinyl records better than on CDs or DVDs?
Vinyl Vs CD/Mp3: Insights into Music Formats & the Metaphysics of Our Music
24/192 Music Downloads…and why they make no sense
Sony Music Goes Back to Vinyl Records
What bitrate is needed to sound like analog FM?
Hear the Music. Really Hear it.  "I've listened to that song a thousand times and I'm hearing things I've never heard before."  That's the definition of your perfect Listening Room. While our world of listening has transformed dramatically over the last decade, all that matters is what you want to hear. The science and mathematics are real, as are the hi-end audio components. The rest is subjective.
The Speakers
Loudspeakers convert electrical impulses into sound. Depending on the dimensions of the room, as well as the listener's preferences, a well-designed audio system will transmit the desired range of frequencies (note that it may not be the widest range). Some audiophiles swear by 2-channel, with speakers positioned a calculated distance apart and at an optimal distance from the listener, facing the listener for a 2 dimensional listening experience.  The 2-channel system creates a virtual sound stage.  When professionally set-up, the listener is able to close his/her eyes and actually pick out exactly where, on the "stage", that musician was positioned. Unlike viewing a movie, there is no need for various sounds (voice, music, effects) to "follow" around the room, so rear speakers or a full surround sound system are not desired. In fact, some find it unnatural for instruments to be heard behind them. The perfect speaker system, in the perfect acoustically treated room, will reproduce the sound as authentically as possible. However, while science can measure all facets of sound, the listening experience is quite personal and our passion for particular brands is rather cult-like. We, of course, have our favorites too.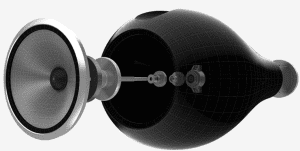 An industry icon with a prestigious reputation built over 5 decades, Bowers & Wilkins touts its 800 Diamond Series as "the industry standard for accurate sound." We couldn't agree more.  The Diamond Dome tweeters of the iconic 802 D3 deliver natural treble while its Continuum cone and Aerofil cone provide amazing, subwoofer-free, midrange and bass, respectively.  Frequently the subject of audiophile reviews, the B&W Diamond Series does not disappoint. The D3 was unveiled last summer in Boston. Here's a review featured in Audioholics that details the author's experience of both the D3 as well as B&W's flagship speaker, the $60k per pair Nautilus. The line's CM Series, with its minimalist exterior and "tweeter on top" technology, also offers incredible audio performance. It is designed with the highest quality components and a "less is more" philosophy that ensures "nothing gets between you and the sound the artist intended you to hear."
The Construction
Equally as important to the components is the environment.  The ideal listening room will be free of ambient noise and other distractions. Acoustic treatments will absorb the hum of the HVAC and rattling water pipes.  The space will be free of harsh lighting, filled only with soft, relaxing light and there will be no capacity for video. This combination of exceptional components producing nearly flawless sound and the distraction-free environment, will allow the listener to hear subtle artifacts in the music that were previously unnoticed.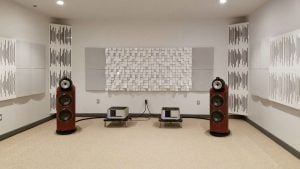 The room's furnishings and physical dimensions are essential to the experience.  The proper room requires some soft surfaces – some will say that even a glass coffee table or leather couch is not suitable as they will reflect sound, opting instead for fabric seating. The height of the seat back is recommended to be below the listener's ear level, allowing unobstructed hearing without reflection. The single seat should be positioned in what will be known as the "sweet spot" or "money seat," as determined by the engineer's calculations. The calculations for the room itself are also of great importance.  To determine an acoustically accurate room for optimal listening, audio engineers employ the Bonello Graph, a method of calculating the ideal room ratio of dimension and volume, explained here by AcousticFields.com.  In the audiophile world, this is also referred to as the acoustic amoeba.
Are you an audiophile or serious music lover that wants to experience all that the music has to offer?  Hearing is believing! Let's set up an in-home consultation and schedule a demo – you can even bring your own music. And stay-tuned. Part 2 will cover amplification, calibration, connectivity and content. Did you know Neil Young was launching a high-quality music streaming service?
Additional Resources:
Ideal Room Size Dimensions and Ratios for Audiophile Listening
Ideal Room Size Ratios & How To Apply The Bonello Graph